A group of plaintiffs recently filed a motion with the U.S. Judicial Panel on Multidistrict Litigation (JPML) to consolidate all federally filed Zantac lawsuits into one court for pre-trial proceedings.
The plaintiffs assert that all the pending actions involve common factual questions—namely, that plaintiffs purchased Zantac (ranitidine) and were exposed to the carcinogen N-nitrosodimethylamine (NDMA).
Zantac has been sold in the U.S. for more than 30 years, the plaintiffs state, and
"every one of the millions of the drug's consumers have been exposed to dangerous levels of NDMA and many thousands of those consumers have contracted cancer as a result."
The plaintiffs who filed the initial petition suggest the U.S. District Court for the District of New Jersey as the location for the proposed MDL, mainly because lawsuits involving valsartan contamination with NDMA—which the plaintiffs see as very similar to lawsuits involving Zantac and NDMA—are consolidated there.
Companies Recall Potentially Contaminated Zantac and Generic Products
Online supplement company Valisure filed a Citizen's Petition on September 9, 2019, urging the Food and Drug Administration (FDA) to recall all Zantac and generic ranitidine products because of their potential to expose users to NDMA.  The company noted at the time that it's own internal testing on the products had revealed high levels of NDMA "in every lot tested, across multiple manufacturers and dosage forms of the drug ranitidine."
The FDA conducted its own testing on the products and agreed that levels of NDMA were higher than what was deemed to be safe.  On September 13, 2019, the agency issued a statement alerting patients and health care professionals that NDMA had been found in samples of ranitidine.
In the weeks that followed, the FDA alerted the public to several product recalls, starting with those implemented by generic ranitidine manufacturers Sandoz and Apotex, followed by Dr. Reddy's, Perrigo Company, and Aurobindo Pharma.  On October 22, 2019, Zantac manufacturer Sanofi recalled brand-name Zantac products.
The FDA has published its suggestions for approved testing methods meant to detect nitrosamine impurities in ranitidine drug samples. The agency recommended non-heating methods to produce quality results.
Does Zantac Create NDMA as a Product of Digestion?
Meanwhile, a debate already exists as to why Zantac and generic ranitidine may contain NDMA.  The FDA has labeled it as an "impurity," but Valisure asserted that the product itself, when it breaks down in the digestive system, naturally releases NDMA as it is metabolized in the body.
"Valisure's research," the company wrote on its website, "along with that of Stanford University and others, found that NDMA was the result of the; 'inherent instability' of the ranitidine molecule.  This means that all manufacturers, brand or generic, and all lots of ranitidine-containing medications are affected and could generate high levels of NDMA in the human body."
In a 2016 study on oral intake of ranitidine, scientists examined urine samples from five female and five male healthy volunteers over 24-hour periods before and after consumption of 150 mg of ranitidine.  Following intake, the urinary NDMA excreted over 24 hours increased 400-fold from 110 to 47,600 ng, while total N-nitrosamines increased by 5-fold.
"NDMA excretion rates after ranitidine intake equaled or exceeded those observed previously in patients with schistosomiasis," the researchers wrote, "a disease wherein N-nitrosamines are implicated as the etiological agents for bladder cancer."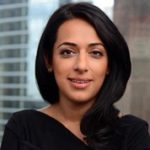 Exclusively focused on representing plaintiffs—especially in mass tort litigation—Roopal Luhana prides herself on providing unsurpassed professional legal services in pursuit of the specific goals of her clients and their families. While she handles complex cases nationwide on behalf of consumers, Ms. Luhana resides with her family in Brooklyn, New York.