Over 200 people recently joined together to file a new Zantac class-action lawsuit in the U.S. District Court for the Southern District of Florida. This is the location of the current consolidated Zantac MDL, which was formed in February 2020.
The plaintiffs bring the action on behalf of themselves and all other similarly situated residents of the U.S. or its territories who purchased and/or used Zantac for personal, family, or household use. As an alternative or in addition to the nationwide class, the plaintiffs bring the action in their individual capacities on behalf of residents in all 50 states, the District of Columbia, and Puerto Rico.
Plaintiffs Accuse Defendants of Selling a Defective Product
According to the complaint, Zantac manufacturers deceived millions of consumers into "purchasing and ingesting a defective, misbranded, adulterated, and harmful drug" while failing to warn about the potential for that drug to contain N-nitrosodimethylamine (NDMA), a cancer-causing agent.
Plaintiffs who used the drug between 1983 when it was first approved until April 2020 when the U.S. Food and Drug Administration (FDA) removed it from the market now face a potential increased risk of developing cancer, which may require them to endure costly medical monitoring, treatments, and/or medications for the rest of their lives.
NDMA was originally used to manufacture rocket fuel, but after it was discovered to contaminate the environment, its use in commercial industry was banned. Today, it is produced only for use in scientific laboratories, where researchers use it to induce cancerous tumors in laboratory animals.
The FDA has set the maximum allowable daily limit of NDMA to 96 nanograms. Tests on Zantac products, however, revealed levels much higher than allowed amounts of NDMA, prompting the FDA to notify the public of the potential danger in September 2019.
Valisure, the online pharmacy that first discovered NDMA in Zantac in June 2019, argued that the ranitidine molecule itself was unstable, and could form NDMA in the human digestive system. The FDA disagreed, reporting it found no evidence in its own tests to support that theory, but when later studies revealed that NDMA could increase in Zantac over time and with exposure to high temperatures, the agency called for its removal from the market.
Levels of NDMA Increase When Zantac Exposed to Heat
The plaintiffs involved in the case come from all over the country and claim to have purchased and used Zantac and other ranitidine-containing products for extended periods, sometimes for a decade or more. Had they known about the potential for the medication to contain NDMA, they all state they would never have used it.
The defendants, the plaintiffs argue, knew or should have known of the NDMA risk in their products, as early studies showed that ranitidine could convert into cancerous N-nitroso compounds like NDMA in human gastric fluid when accompanied by nitrites—a substance commonly found in food and the body. NDMA itself, in addition, has long been deemed a probable human carcinogen and is labeled as such today by the Environmental Protection Agency (EPA) and the International Agency for Research on Cancer (IARC).
The plaintiffs also state that the defendants long knew that NDMA could be formed when ranitidine was exposed to heat—including elevated temperatures such as those that would be reached during shipment and storage of the drug—yet failed to take any action to protect consumers.
The plaintiffs seek compensatory and punitive damages.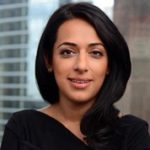 Exclusively focused on representing plaintiffs—especially in mass tort litigation—Roopal Luhana prides herself on providing unsurpassed professional legal services in pursuit of the specific goals of her clients and their families. While she handles complex cases nationwide on behalf of consumers, Ms. Luhana resides with her family in Brooklyn, New York.