An Illinois man has filed a new paraquat lawsuit in the U.S. District Court for the Southern District of Illinois. He claims that after using the herbicide for years, he suffered from serious injuries. He seeks compensatory and punitive damages.
After Years of Exposure to Paraquat, Plaintiff Suffers from Parkinson's Disease
According to his complaint, the plaintiff was repeatedly exposed to and inhaled, ingested, or absorbed paraquat in the course of mixing, spraying, and otherwise applying it to fields in various counties in Illinois between 1983 and 2002. After this repeated and consistent exposure, he began suffering from neurological injuries consistent with Parkinson's disease (PD).
PD is a progressive nervous system disorder that affects movement. Symptoms often begin gradually, as in a tremor in one hand, and then worsen as the disease progresses over time. The disease can't be cured, so doctors focus on managing symptoms with medications and occasionally, surgery.
Doctors aren't sure what causes PD, but they know that the disease causes certain nerve cells (neurons) in the brain to gradually break down and die. Symptoms of the disease are typically caused by a loss of those neurons that produce dopamine—a chemical messenger in the brain.
As to what causes these nerve cells to die, scientists believe all of the following may play a role:
Genes: certain genetic mutations can make a person more vulnerable to PD.
Environmental triggers: Exposure to certain toxins (like pesticides) may increase the risk of PD, particularly in those who are genetically susceptible to it.
Even the Mayo Clinic notes that ongoing exposure to herbicides and pesticides may slightly increase the risk of PD. The plaintiff, in this case, blames his PD on his exposure to paraquat.
Studies Link Paraquat with Increased Risk of PD
Paraquat has been one of the most popular herbicides used in the U.S. since the 1960s.  It is used to kill broadleaf weeds and grasses before the planting or emergence of more than 100 fields, fruit, vegetable, and plantation crops, as well as to control weeds in orchards and desiccate (dry) plants before harvest.
The plaintiff points to evidence connecting paraquat exposure to an increased risk of PD. He states that the same properties that make paraquat toxic to plant and animal cells make it toxic to the neurons in the brain that produce dopamine—called dopaminergic neurons.
Researchers for a 2018 study from the University of Guelph found that low-level exposure to both paraquat and maneb disrupted cells in a way that mimicked the effects of mutations known to cause PD. Adding the effects of these chemicals to a predisposition for PD increased the risk of the disease onset, according to the findings.
"People exposed to these chemicals are at about a 250-percent higher risk of developing Parkinson's disease than the rest of the population," study author Scott Ryan told Science Daily. "People with a predisposition for Parkinson's disease are more affected by these low-level exposures to agrochemicals and are therefore more likely to develop the disease."
The plaintiff brings counts of design defect, failure to warn, negligence, breach of warranties, and more, stating that as a result of the paraquat manufacturers' actions, he has suffered the loss of normal life and will continue to do so for the remainder of his life.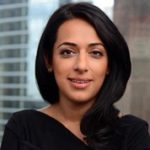 Exclusively focused on representing plaintiffs—especially in mass tort litigation—Roopal Luhana prides herself on providing unsurpassed professional legal services in pursuit of the specific goals of her clients and their families. While she handles complex cases nationwide on behalf of consumers, Ms. Luhana resides with her family in Brooklyn, New York.