A Tennessee woman recently filed a new hair relaxer lawsuit in the U.S. District Court for the Northern District of Illinois. She claims that after using certain hair-relaxing products, she was seriously injured. She seeks both compensatory and punitive damages.
Plaintiff Claims Hair-Relaxing Products Led to Uterine Cancer and Uterine Fibroids
In about 1985, the plaintiff started using hair-relaxing products like Dark & Lovely, Motions, TCB Naturals, Olive Oil Girls, Optimum, Soft & Beautiful, Just for Me, and Organic Root Stimulator, to chemically straighten or relax her hair. She used them frequently over the years, either applying them to her scalp herself or going to a professional at a hair salon to have them applied.
She claims that she always followed the manufacturer's instructions when applying the products, and would keep them on her hair for the allotted time. There was never any indication on the packaging or otherwise that this normal use could lead to health problems like uterine cancer or uterine fibroids.
Around December 2021, the plaintiff began suffering from uterine cancer and uterine fibroids. Treatment for these issues included a hysterectomy. She claims her long-term use of hair relaxing and straightening products is what led to these health problems.
Hair Relaxers and Straighteners On the Market Since the 1970s
The first hair-relaxing products came onto the market in the 1970s. They included lye, a known corrosive substance. In the 1980s, Johnson & Johnson introduced its gentle hair relaxer, which used milder chemicals like potassium hydroxide and lithium hydroxide. Over time, several other manufacturers developed herbal and botanical hair relaxer formulas.
Today, the companies market their products largely to African American consumers to alter permanently consumers' natural curl patterns.
Consumers apply the products to the base of the hair shaft and then let them sit for a specified amount of time. Chemicals like phthalates—plasticizing chemicals that have been linked to hormone disruption—as well as parabens, bisphenol-A (BPA), diethanolamine, and formaldehyde act on the hair, altering its protein structure.
Children can start using these relaxers at a young age and may continue to use the products for a lifetime.
Studies Link Frequent Use of Hair Relaxers to Cancer
Recent studies have investigated a potential link between the long-term use of hair relaxers and straighteners and an increased risk of certain health problems, including cancer and uterine fibroids.
In one study from the National Institute of Environmental Health Sciences (NIEHS), scientists found that women who used chemical straighteners and/or relaxers had a higher risk of uterine cancer than those who didn't. Specifically, women who reported frequent use were more than twice as likely to develop uterine cancer. The researchers found no such association with other products like hair dye, bleach, highlights, or perms.
A 2012 study also associated fibroid risk with the use of hair relaxers. Scientists noted that women who used the products frequently were at a higher risk than those who used them less frequently. Those who suffered scalp burns caused by the products were also at a higher risk of the associated health issues.
The plaintiff says the defendants knew or should have known these products were unreasonably dangerous, yet they failed to provide adequate warnings to the public.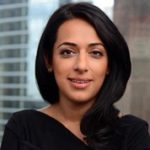 Exclusively focused on representing plaintiffs—especially in mass tort litigation—Roopal Luhana prides herself on providing unsurpassed professional legal services in pursuit of the specific goals of her clients and their families. While she handles complex cases nationwide on behalf of consumers, Ms. Luhana resides with her family in Brooklyn, New York.