A California woman recently filed a new hair relaxer lawsuit in the U.S. District Court for the Northern District of Illinois. She claims that after using the products for years, she was diagnosed with uterine cancer. She seeks compensatory and punitive damages.
On February 6, 2023, the U.S. Judicial Panel for Multidistrict Litigation (JPML) ordered all federally filed hair relaxer lawsuits consolidated in the Northern District of Illinois. Since then, the parties have been working to select a small number of cases to be prepared for early trial.
Plaintiff Blames Hair Relaxing Products for Her Uterine Cancer
This plaintiff is suing L'Oréal, Softsheen-Carson, Strength of Nature, and Godrej Son Holdings, among others – all manufacturers of hair relaxing and straightening products like Dark & Lovely, Soft & Beautiful, and African Pride.
She blames these manufacturers for her diagnosis, stating that her uterine cancer was directly caused by her regular and prolonged exposure to the endocrine-disrupting chemicals in them.
Endocrine disruptors, according to the National Institute of Environmental Sciences, may "mimic or interfere with the body's hormones, known as the endocrine system." They can cause problems with the human developmental, reproductive, brain, and immune systems.
These chemicals are found in many everyday products, including some plastic bottles and containers, toys, cosmetics, pesticides, and flame retardants. Some have also been found in hair relaxers. These may include phthalates, used by hair care product manufacturers to make fragrances and colors last longer and to make hair more flexible after the product is applied.
Studies have linked phthalates to hormone disruption. In a 2021 study, scientists wrote that phthalates, as endocrine-disrupting chemicals, "are detrimental to the reproductive, neurological, and developmental systems of human [sic] from multiple exposure pathways."
One particular phthalate called Di-2-ehtylhexylphthalate (DEHP) is found in some of the manufacturers' products. The National Toxicology Program (NTP) evaluated DEHP and found it reasonably anticipated to be a human carcinogen. Studies have linked DEHP to adverse effects like endometriosis, developmental abnormalities, reproductive dysfunction, and various cancers.
Studies Link Toxic Chemicals to Increased Risk of Cancer
Deaths from uterine cancer among women are rising, according to a study led by researchers at the National Cancer Institute. Between 2010 and 2017, deaths of women from all racial and ethnic groups from uterine cancer increased by 1.8 percent per year. Black women were found to have more than two times rate of deaths compared to other racial and ethnic groups. The higher death rates are related to the rising incidence of aggressive subtypes of uterine cancer.
The American Cancer Society estimates that nearly 66,000 new uterine and endometrial cancer cases will be diagnosed in the U.S. within the next year.
In a 2022 study, researchers found that women who had used straightening products in the previous 12 months were almost twice as likely to have developed uterine cancer than those who didn't.
The association was stronger when comparing frequent use (over four times in the past 12 months) with never use. Those who used them more than four times in the previous year were about 2.5  times more likely to develop uterine cancer.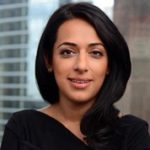 Exclusively focused on representing plaintiffs—especially in mass tort litigation—Roopal Luhana prides herself on providing unsurpassed professional legal services in pursuit of the specific goals of her clients and their families. While she handles complex cases nationwide on behalf of consumers, Ms. Luhana resides with her family in Brooklyn, New York.