As the litigation against hair-relaxing product manufacturers heats up, the United Kingdom (UK) feminist community Level Up has called for beauty products manufacturer L'Oréal to either make these products safer or take them off the shelves.
In an open letter to the company posted on its website, the group urges the company to take responsibility for the harms caused by their products, and to "demonstrate Black women matter too."
Following the publication of a few scientific studies that linked frequent use of hair-relaxing products to an increased risk of certain reproductive cancers, many plaintiffs have come forward to file claims against the manufacturers.
On February 6, 2023, the U.S. Judicial Panel on Multidistrict Litigation (JPML) ordered all such cases filed in federal courts consolidated in the Northern District of Illinois for pre-trial proceedings.
Level Up Calls on L'Oréal to Take Action to Make Products Safer
Back in August 2021—following the publication of a study showing some evidence that heavy use of lye-containing hair relaxers may be associated with an increased risk of breast cancer—Level Up started a petition calling for L'Oréal to remove toxic ingredients like lye from its hair-relaxing products like Dark & Lovely.
The petition, promoted under the hashtag #nomorelyes has garnered over 6,000 signatures.
Lye, also known as sodium hydroxide, is a chemical used to make cleaning products like oven cleaners and drain openers (because of its grease-dissolving properties). Prolonged or repeated skin contact with lye can cause dryness and dermatitis, and in more severe cases, burns.
Because it helps break down proteins in the hair shaft, lye is a key ingredient in some hair-relaxing products used by Black women. Level Up notes that L'Oréal is one of the "biggest manufacturers of lye-based hair relaxers…" The company is also one of the most frequently named manufacturers in hair-relaxer lawsuits.
"Black women should be able to trust that the products we use won't hurt us," Level Up writes in its open letter, "but Level Up's 2022 survey found that 95 percent of Black British women don't trust beauty brands that sell lye-based relaxers."
Other hair relaxers are made without lye still contain other harsh chemicals that can cause scalp burns and hair loss. Some are also known as endocrine-disrupting chemicals, which means that they can interact with the human hormonal system.
Level Up has specifically called on L'Oréal to take action to ensure:
A safe choice. Make the products safe to use or take them off the shelves.
A transparent choice. Make the nature of the ingredients and their possible harms clear on the product label/packaging.
An informed choice. Invest in research about the long-term impact of these ingredients and products on Black women.
Studies Link Regular Use of Hair-Relaxing Products to Increased Risk of Cancer
After the 2021 study, other studies were published linking regular use of hair-relaxing products to an increased risk of cancer.
In a 2022 study, for instance, researchers found that women who had used straightening products in the previous 12 months were almost twice as likely to have developed uterine cancer than those who didn't.
The association was stronger when comparing frequent use (over four times in the past 12 months) with never use. Those who used them more than four times in the previous year were about 2.5 times more likely to develop uterine cancer.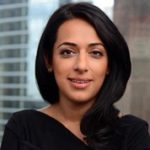 Exclusively focused on representing plaintiffs—especially in mass tort litigation—Roopal Luhana prides herself on providing unsurpassed professional legal services in pursuit of the specific goals of her clients and their families. While she handles complex cases nationwide on behalf of consumers, Ms. Luhana resides with her family in Brooklyn, New York.