In June 2019, online pharmacy Valisure detected a cancer-causing agent (NDMA) in the popular heartburn drug Zantac (ranitidine). Since then, thousands of consumers have been concerned that if they took the drug—particularly if they took it for long periods—they may now be at an increased risk of cancer.
A recent study seems to have validated those concerns. According to researchers publishing their findings in the scientific journal Cancers, patients who used Zantac may have an increased risk of several types of cancers, including esophageal, stomach, and colorectal cancer.
Study Findings Suggest Ranitidine is Associated with an Increased Risk of Cancer
For the study, researchers examined the FDA Adverse Events Reporting System (FAERS), looking for reports related to the use of proton pump inhibitors (PPIs) and H2 antagonists (of which Zantac is on). Both types of drugs are used to treat gastrointestinal conditions like ulcers, heartburn, and stomach upset.
The scientists looked specifically for reports of cancers and found that the proportion of adverse events for any gastrointestinal cancer relative to all other events was higher for ranitidine compared to PPIs and other H2 antagonists.
The scientists found elevated incidences of cancers such as esophageal, stomach, colorectal, liver, and pancreatic among those taking Zantac (ranitidine).
The researchers concluded that the study results, in addition to other research, "support the hypothesis that NDMA-contaminated ranitidine increases the risk of cancer…."  This latest study was consistent with the results of a 2000 study that discovered ranitidine use was associated with a 2.4-fold increased risk for the combined outcome of stomach/esophageal cancer.
The scientists warned that the results of this most recent study should be interpreted in light of several limitations. The data from the FAERS, for instance, is based on self-reported information and not subject to validation. They concluded, however, that the results of the study "provided direct support for the assertion that NDMA contaminated ranitidine is associated with the occurrence of gastrointestinal cancer."
Studies Link NDMA Exposure to Gastrointestinal Cancer
NDMA (N-nitrosodimethylamine) is a byproduct of certain industrial processes and can be released into the air, soil, and water. Human exposure to NDMA may occur through eating or drinking contaminated water or foods that contain nitrosamines (e.g., cured meat) or alkylamines (e.g., tea), which can mix with other compounds in the stomach to produce NDMA. Exposure can also occur via the use of NDMA-contaminated cosmetic products or in occupational settings.
Research has shown that NDMA is a potent carcinogen in experimental animals. The Environmental Protection Agency (EPA) and the International Agency for Research on Cancer (IARC) have classified the chemical as a probable human carcinogen. Previous studies examining high levels of dietary exposure to NDMA have found a significant increase in gastrointestinal cancers.
In a 2015 study, for instance, researchers found that subjects who consumed a lot of NDMA-containing foods had a 34 percent increased risk of gastric cancer. Other studies examining diet have found similar results, with one published in 2013 showing a significantly increased risk of colorectal cancer in those with high NDMA and low vitamin E intakes.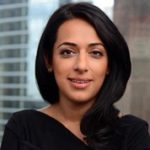 Exclusively focused on representing plaintiffs—especially in mass tort litigation—Roopal Luhana prides herself on providing unsurpassed professional legal services in pursuit of the specific goals of her clients and their families. While she handles complex cases nationwide on behalf of consumers, Ms. Luhana resides with her family in Brooklyn, New York.