Back in May 2017, New Jersey consolidated all state-filed Stryker LFIT V40 hip implant lawsuits into one court in Bergen County for pretrial proceedings. This was just a month after federal cases were brought together in the District of Massachusetts. Both courts have been working toward selecting a few cases to go to early trial, but now it looks as though that may not be necessary.
On November 2, 2018, manufacturer Stryker Corp. and the leadership council for some of the plaintiffs in both the state and federal courts announced they had reached a settlement. The initial settlement terms are confidential, but it does suggest that other cases may be similarly resolved in the future.
Stryker Reaches Settlement Agreement on Some Cases
About a week before the settlement was announced, Massachusetts federal judge Indira Talwani stayed discovery on Stryker LFIT V40 cases through July 31, 2019, to give both sides a chance to finalize negotiations on a settlement.
Stryker informed Judge Talwani that together with committees representing plaintiffs in both the federal MDL and the state MCL, they had reached a confidential settlement agreement to resolve claims of patients who had to go through revision surgery to replace the Stryker V40 femoral head.
So far, it is unclear whether other Stryker components will be covered by the agreement, but it could be that plaintiffs with cases involving Stryker's Accolade TmZF, Accolade 2, Citation, Meridian, and Rejuvenate devices will also be covered.
What is clear is that the settlement will not cover all claims, but it is a step forward in the litigation. It remains to be seen whether the parties will return to the table to negotiate further, or if some of the cases may go to trial in the future.
Stryker Recalls LFIT V40 Femoral Component Because of Complaints
Stryker recalled certain sizes of their LFIT V40 femoral head component back in August 2016. They notified surgeons then that they had received higher than expected complaints of taper lock failure (occurring between the femoral head and neck), which could lead to hip dislocation, excessive metallic debris, and other problems requiring revision surgery.
The femoral head is the "ball" part of the ball-and-socket hip joint and fits inside the socket of the pelvis to allow the hip to rotate back and forth. The head is then attached to the stem, which goes into the thighbone. At the top of the stem is the femoral "neck," the part that actually connects to the head. It was between the head and neck that the Stryker V40 often allegedly failed.
The component is used with several stems, including the Accolade TMZF, Accolade 2, Meridian and Citation. It is made of cobalt and chromium, and when placed up against a metal socket, can increase the risk of corrosion at the head-neck juncture. Over time, the materials can wear against one another, shedding metal fragments into the surrounding tissues and causing tissue damage.
Research in 2015 showed that corrosion between the metal surfaces at the head-neck connection as a potential factor in causing hip-implant problems and that such corrosion could be more common than previously believed.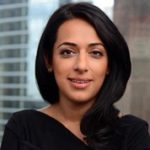 Exclusively focused on representing plaintiffs—especially in mass tort litigation—Roopal Luhana prides herself on providing unsurpassed professional legal services in pursuit of the specific goals of her clients and their families. While she handles complex cases nationwide on behalf of consumers, Ms. Luhana resides with her family in Brooklyn, New York.