All Stryker hip replacement lawsuits filed in New Jersey state court have now been centralized into one court as part of a new multicounty litigation (MCL).
According to a Notice to the Bar dated May 30, 2017, all cases involving the recalled Stryker LFIT V40 femoral heads will now proceed in Bergen County under the management of Superior Court Judge Rachelle Harz. Any current or future similar lawsuits filed in other New Jersey counties will be transferred to Bergen County for pre-trial proceedings.
All State Court Stryker LFIT V40 Lawsuits Consolidated in Bergen County
The order applies to all Stryker V40 femoral head cases filed in New Jersey, to help prevent duplication of discovery and conflicting rulings. The Stryker LFIT was designed to be used as part of multiple hip replacement systems, and plaintiffs involved in this litigation may have been implanted with various types of implants. What they all have in common is the inclusion of the Stryker LFIT V40 femoral head in their hip replacement
The femoral head is the component that serves as the "ball" of the ball-and-socket hip joint. It fits into the socket of the pelvis bone, allowing the hip to rotate back and forth. The head is then attached to the hip stem, which is driven into the thighbone (femur). The Stryker V40 was designed to be used with the Stryker Accolade TMZF, the Stryker Accolade 2, the Meridian, and the Citation hip implant systems.
Stryker Recalls LFIT V40 Because of High Number of Complaints
In August 2016, Stryker issued an urgent medical device notification, warning orthopedic surgeons that they were recalling LFIT V40 femoral heads manufactured before 2011 because of "higher than expected complaints of taper lock failure."
The taper lock is the part of the implant that connects the femoral head which, goes into the hip socket, to the hip stem. A failure in this area could cause pain, inflammation, tissue damage, fluid build-up, and even disassociation of the femoral head from the hip, resulting in complete hip implant failure.
There were also reports that the cobalt-chromium femoral heads were rubbing against other metal components and shedding metal shards into the hip joint, causing complications leading to loosening and failure. Stryker advised doctors to stop using the devices and to keep an eye on their patients for any symptoms that could reveal a taper lock problem.
Many Plaintiffs Required Revision Surgery
Each of the Stryker hip lawsuits currently pending in New Jersey state court involves claims of an allegedly defective LFIT V40 femoral head. Plaintiffs complain of problems resulting in pain, inflammation, excessive metal debris and metallosis, bone loss, immobility, joint dislocation, and even broken bones. Most of the plaintiffs underwent revision surgery to have the implants repaired and/or replaced.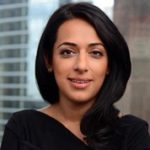 Exclusively focused on representing plaintiffs—especially in mass tort litigation—Roopal Luhana prides herself on providing unsurpassed professional legal services in pursuit of the specific goals of her clients and their families. While she handles complex cases nationwide on behalf of consumers, Ms. Luhana resides with her family in Brooklyn, New York.