The FDA received over 26,000 medical device reports related to Essure between November 2002 and December 2017. The reports indicated problems with the permanent birth control device, including migration, breakage, dislocation, and malpositioning. Manufacturer Bayer, despite recently stating they would no longer sell the device in the United States, maintains that their product is safe.
FDA Takes Steps to Restrict Sales of Essure
The FDA approved Essure as a permanent birth control device in 2002. After investigating hundreds of adverse event reports, however, they required a new "black box warning" to be placed on the product in 2016, "to help to ensure women receive and understand the benefits and risks of this type of device." They also approved a "decision checklist" for doctors that would help them go over the risks and benefits of the device with patients before implanting Essure.
After taking these steps, the FDA learned that many women were still using Essure without being aware of the potential dangers. So in April 2018, they took it a step further and restricted sales of the device. Under the new restrictions only to those doctors and medical facilities that agreed to review the decision checklist with patients, and have them sign it, were permitted to implant the device.
"The FDA is aware that some women have received the Essure device without being adequately informed of Essure's risks," the FDA stated. "In order for this device to meet reasonable assurance of safety and effectiveness, all women considering Essure should receive this important information."
A few months later that Bayer announced they would cease sales of Essure in the U.S., they had already done so in Europe in the fall of 2017.
Bayer Stands by Essure, Claiming It's Safe
In July 2018, Netflix released "The Bleeding Edge," a documentary raising concerns about the medical device industry and the risks of the medical implants they sell. It featured patients discussing side effects they'd experienced from products like metal-on-metal hip implants, breast implants, vaginal mesh products, and permanent birth control implants—namely, Essure.
Board-certified Obstetrician-Gynecologist Dr. E. Scott Sills stated in the documentary that he'd seen a range of side effects with Essure, including painful sex, irregular bleeding, and hair loss, and even some that were more severe. "They [Essure devices] puncture the fallopian tube and get into the abdominal cavity and snag the fallopian tube and go up to the liver…I've seen this happen in my practice."
The same day the documentary came out, Bayer issued a statement standing behind their product, stating that "more than 40 studies, involving more than 200,000 women, have been conducted to evaluate the safety and efficacy of Essure. The data demonstrates Essure's positive safety profile as confirmed by highly respected medical organizations such as the American College of Obstetricians and Gynecologist."
Bayer also announced in that same statement that they were stopping the sale of Essure at the end of 2018. Bayer claimed in a July 27, 2018 press release that "[s]everal factors have contributed to declining interest in Essure among women in the U.S., including decreased use of permanent contraception overall, increased reliance on other birth control options, such as long-acting reversible contraceptives (LARCs), and inaccurate and misleading publicity about the device."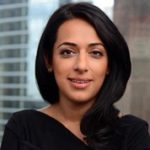 Exclusively focused on representing plaintiffs—especially in mass tort litigation—Roopal Luhana prides herself on providing unsurpassed professional legal services in pursuit of the specific goals of her clients and their families. While she handles complex cases nationwide on behalf of consumers, Ms. Luhana resides with her family in Brooklyn, New York.