Over the last several months, e-cigarette manufacturer JUUL has faced increasing scrutiny and pressure from the U.S. government, the FDA, and the courts for its connection to the epidemic of vaping among America's youth.
The FDA has sent the company warning letters over its marketing tactics, including those targeted to students.  In September 2019, the Trump administration stated that it was working with the FDA on a potential ban of all flavored e-cigarettes.  The company is also facing a rising number of lawsuits filed by those who became addicted to nicotine through the use of its products.
Former FDA Commissioner Scott Gottlieb, however, claims that more needs to be done.  He has recently called for an outright ban of all JUUL pod-based vaping products, as well as other cartridge-based e-cigarette products.
In a speech given at Harvard University, he stated, "Unless we're able to change the current trajectory of tobacco-related disease, almost six million children alive today will die prematurely later in life from tobacco use.  In my view, that requires us to sweep the market of all of the cartridge-based e-cigarette products in their entirety—JUUL, Njoy, Blu, Vuse, and others."
E-cigarettes Wiping Out Progress Made in Youth Smoking
Gottlieb is advocating for swift action against JUUL because the rise in popularity of e-cigarettes is poised to erase decades of progress made in curbing teen smoking.  According to the U.S. Centers for Disease Control and Prevention (CDC), the 1.3 million increase in teen tobacco users between 2017 and 2018 can be linked directly to e-cigarettes—a rise so significant that it has wiped out any progress in declining youth tobacco use.
The CDC's report singled out JUUL as contributing to the escalating rates of smoking.  Its sleek flash-drive design allows students to sneak it into school, and the availability of sweet and mint flavors has been found in studies to be particularly appealing to young people.  JUUL also contains more nicotine than other types of e-cigarettes, and can, therefore, be more fiercely addictive than other vaping products.
Kids Prefer JUUL and Gravitate Toward Mint and Mango Flavors
If Gottlieb gets his wish, the only products that would remain on the market would be the open-tank vaping systems, such as those sold in adult-only vape shops.  These aren't products that as appealing to kids, he explained, so they could be preserved for adults.
Though he resigned from the FDA earlier in 2019, Gottlieb has continued to be an advocate for teen safety.  He has spoken out against JUUL, in particular, because of their actions when it came to teen use of e-cigarettes. "The youth vaping crises was always a JUUL crisis," he said.  "I believe they primarily created it."
Studies seem to support Gottlieb's view.  Two recently published in the Journal of the American Medical Association showed that more than half of teens who vape use JUUL products, and that its mint pods are the most popular flavor among high school kids.  Among eighth-grade students, the most popular flavors were mango, mint, and fruit.
JUUL came onto the market in 2015, and since then has dominated the e-cigarette industry with about 40 percent of the market.  In 2018, Altria, the top U.S. e-cigarette company, invested $12.8 billion for a 35 percent stake in the company—an action for which it now faces a class-action lawsuit filed by stakeholders.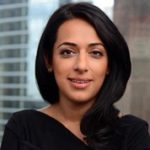 Exclusively focused on representing plaintiffs—especially in mass tort litigation—Roopal Luhana prides herself on providing unsurpassed professional legal services in pursuit of the specific goals of her clients and their families. While she handles complex cases nationwide on behalf of consumers, Ms. Luhana resides with her family in Brooklyn, New York.