Facing increasing pressure from the U.S. Government, JUUL Labs, the leading manufacturer of e-cigarette products, recently announced it would stop selling mint-flavored pods.
This announcement came after the company previously stopped selling fruit- and dessert-flavored pods like mango and crème brûlée.  All of these flavors are known to be popular with young people and are believed to have strongly contributed to the current youth vaping epidemic.
An Epidemic of E-cigarette Use Among Teens
The U.S. Surgeon General has released an advisory concerning e-cigarette use among young people, stating that it's important for the country to immediately address the epidemic of youth e-cigarette use:
"The recent surge in e-cigarette use among youth, which has been fueled by new types of e-cigarettes that have recently entered the market, is a cause for great concern. We must take action now to protect the health of our nation's young people."
E-cigarette use increased among U.S. middle and high school students by 900 percent between 2011 and 2015.  In July 2019, the FDA released a statement outlining its plans to help tackle the epidemic, which included accelerating its review of e-cigarettes, taking vigorous enforcement actions to be sure these products weren't sold to kids, and continuing to educate young people about the dangers.
The FDA has also expressed its commitment to limiting youth access to flavored products.  The Family Smoking Prevention and Tobacco Control Act, which was passed in 2009, banned traditional cigarettes with flavors other than menthol or tobacco, but e-cigarettes have managed to sell their flavored products unhindered by the ban.
Teens Prefer Sweet and Minty Flavored E-cigarettes
In September 2019, the Trump administration announced it would soon ban flavored e-cigarettes. ABC News recently reported that the White House expects to announce the details of that ban the week of November 11, 2019.
Meanwhile, several states have already passed their own bans on flavored e-cigarettes, including Michigan, Massachusetts, Rhode Island, Washington, and Oregon.  San Francisco—ironically, where JUUL is headquartered—was the first major city in the country to ban the sale and distribution of all e-cigarettes.  The ban is supposed to go into effect in early 2020 if it isn't overturned before then.
Surveys show that flavored e-cigarettes are largely preferred by young users.  In a cross-sectional survey that included over 19,000 participants, researchers found that current e-cigarette use was 27.5 percent among high school students and 10.5 percent among middle school students.
An estimated 72.2 percent of high school students and 59.2 percent of middle school students used flavored e-cigarettes, with fruit, menthol or mint, and candy, desserts, or other sweets being the most commonly reported flavors.  JUUL was the most popular brand among teens.
JUUL Removing Mint-Flavored Pods from the Market
JUUL faces increasing scrutiny from investigative probes and class-action lawsuits, with their marketing tactics to young people being particularly suspect.  The company, anticipating the nationwide ban on flavored e-cigarettes, previously banned its sweet and fruity flavors but had not made any such announcement on its mint-flavored pods until now.
According to the New York Times, the company stated recently that its mint-flavored pods made up about 70 percent of its latest sales.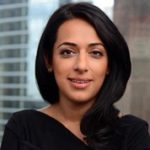 Exclusively focused on representing plaintiffs—especially in mass tort litigation—Roopal Luhana prides herself on providing unsurpassed professional legal services in pursuit of the specific goals of her clients and their families. While she handles complex cases nationwide on behalf of consumers, Ms. Luhana resides with her family in Brooklyn, New York.