Carthage Specialty Paperboard Inc. was recently cited by the Occupational Safety and Health Administration (OSHA) for serious safety hazards at their New York paperboard mill. OSHA opened up an investigation into the company after receiving a complaint alleging unsafe working conditions.
Investigators discovered that Carthage employees were exposed to serious hazards that could lead to amputations, falls, and related injuries. OSHA has proposed $357,445 in penalties.
New York Paperboard Mill Serves Wide Range of Markets
OSHA received the complaint of alleged unsafe working conditions late in 2016. OSHA's Syracuse office opened the investigation on December 27th of that year, and found safety violations that "put employees at serious risk of injury or even worse," according to OSHA Area Director Christopher Adams.
Carthage states on their website that they are the only secondary fiber mill in North America "dedicated to serving a diverse range of markets from pulp-substitute specialty paperboard to industrial grade chipboards." They produce products like graphic arts boards, caps for pill bottles, packaging items, and more. They were acquired by Brownville Specialty Paperboard Products in 2008 and adopted the name Carthage Specialty Paperboard in 2013.
Carthage Specialty has a large paper mill in Carthage, NY, and it was there that the OSHA investigators found alleged problems.
Carthage Cited for 61 Violations of Safety Standards
According to OSHA, Carthage reportedly did not have safety locks to make sure their machinery didn't automatically start up during regular maintenance work. They also allegedly had not trained employees on the type of protective equipment they needed when working on electrical systems with up to 2,300 volts.
Moreover, the catwalks—some as high as 13 feet—allegedly had no restraints to help prevent falls. Carthage also allegedly failed to test small, confined spaces for potentially dangerous fumes, allowing employees to go into them unaware of any dangers. In one machine room, for example, investigators found an accumulation of explosive paper dust that had not been addressed. In other areas, OSHA found floors that were wet and slippery, creating fall hazards. Snow and ice were found on the stairs and on an exterior walkway. Finally, according to OSHA, the company failed to regularly inspect cranes and hoists to be sure they would not accidentally hit an employee and cause an injury.
Altogether, the violations numbered 61, a number that was "significant," according to Adams, in a single workplace.
Falls Cause Many Injuries Each Year
Among the many alleged hazards present at the paperboard mill were unprotected walkways. Employees were exposed to falls ranging from 7 feet to 13 feet on a variety of surfaces, including platforms in the machine room and basement.
OSHA safety standards require that employers provide fall protection to prevent workers from falling off overhead platforms and elevated workstations. They're to provide a guardrail and toe board around every open-sided platform that is four feet or higher off the ground or next level.
Unfortunately, falls are among the most common causes of work injuries and fatalities.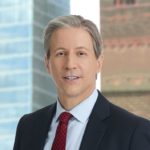 Exclusively focused on representing plaintiffs, especially in mass tort litigation, Eric Chaffin prides himself on providing unsurpassed professional legal services in pursuit of the specific goals of his clients and their families. Both his work and his cases have been featured in the national press, including on ABC's Good Morning America.