A manufacturing company in New Jersey has been cited for serious safety violations.
National Manufacturing Company, Inc., which produces precision deep drawn enclosures (metal cans, cups, canisters, containers, etc.) and shallow drawn metal components, was cited for failing to protect employees from falls and from chemical hazards.
Proposed fines total $56,300.
OSHA Finds Safety Violations at New Jersey Manufacturing Site
The company was brought to the attention of the Occupational Safety and Health Administration (OSHA) on January 29, 2016. That day, a flash fire burned an employee at National Manufacturing. The worker was cleaning a degreasing tank when the fire erupted.
OSHA conducted an investigation and performed a safety inspection of the manufacturing site on February 1, 2016. That investigation revealed that the company was using N-Propyl Bromide (1-Bromopropane), a solvent used in degreasing, dry cleaning, aerosol solvents and spray adhesives. Exposure to this chemical in the work place has been linked to neurological illnesses.
OSHA then conducted a follow-up health inspection on February 18, 2016, to evaluate any potential chemical related health hazards. Inspectors found that employees were exposed to chemical hazards related to N-Propyl Bromide, as well as to fall hazards of up to 7 feet, and electrical and housekeeping hazards. They added that the company was failing to medically evaluate employees who were using respirators.
N-Propyl Bromide Linked with Neurological Problems and Cancer
OSHA cited National Manufacturing with 10 serious safety violations on July 25, 2016. Kris Hoffman, director of OSHA's Parsippany Area Office, stated that the company was "putting workers in harm's way by not properly controlling chemical hazards at its facility in Chatham." The administration determined that the company's lack of hazard management resulted in the flash fire.
Hazardous chemicals can cause many potential health problems for employees. They may cause irritation and sensitization, and certain types of exposure, over a long period of time, can increase the risk of certain types of cancer. In addition, as in this case, they can cause fires and explosions.
N-Propyl Bromide can be particularly dangerous. In addition to being linked to neurological illnesses, it has also been linked with cancer and reproductive disorders in animal studies. Yet, it's frequently used in the manufacturing industry to clean metals, plastics, and electronic and optical components, as well as in adhesive spray applications and solvent sprays. It's found in many operations, including aircraft maintenance, asphalt production, and synthetic fiber manufacturing.
Exposure to this chemical can cause skin, eye and airway irritation, as well as headaches, dizziness, slurred speech, confusion, muscle twitching and more. Workers can be exposed if they breathe in vapor or spray mists, or if the chemical touches their skin. Studies have shown that exposure for as little as two days can cause symptoms.
Employers Responsible for Providing a Safe Working Environment
There is no federal limit on exposure to N-Propyl Bromide, but employers are required to implement safety programs to protect employees. In addition to providing training on using the material, they are also supposed to control exposure by using safer substitutes when possible, isolating machinery using the chemical and providing proper ventilation.
Employers are also responsible for reducing the amount of time that workers are exposed to the chemical.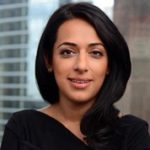 Exclusively focused on representing plaintiffs—especially in mass tort litigation—Roopal Luhana prides herself on providing unsurpassed professional legal services in pursuit of the specific goals of her clients and their families. While she handles complex cases nationwide on behalf of consumers, Ms. Luhana resides with her family in Brooklyn, New York.