Cleveland Granite & Marble, a natural stone company that imports, fabricates, and installs kitchen countertops, bathroom vanities, and fireplace surrounds, was recently cited by the Occupational Safety and Health Administration (OSHA) for exposing workers to harmful noise and respiratory damage at a stone-cutting yard.
OSHA has proposed penalties totaling $63,360. Cleveland Granite & Marble has 15 days to either comply and pay the penalties, request an informal conference with OSHA's director in the area, or contest the findings.
OSHA Cites Stone Company for Failing to Protect Employees
OHSA found this company exposed employees to similar dangers back in 2012. During a follow-up inspection in February 2016, they discovered a number of hazards at the company's facility in Cleveland, including those that could lead to permanent hearing loss, or cause respiratory illnesses including cancer and obstructive pulmonary disease.
At the inspection, investigators reported that the company was exposing employees to noise levels above the action level, and that they had not trained the workers about noise hazards or evaluated them for exposure to noise. In fact, they hadn't provided hearing tests or training since 2013.
In addition, the company allowed employees to change saw blades without using procedures to prevent potential amputation, and they failed to install proper machine guards on a bridge saw used to cut granite. Finally, the company failed to provide appropriate protection against respiratory hazards, such as establishing procedures for respirator use or providing fit testing of the respirators.
Overall, following their investigation, OSHA issued two willful, three repeated, and two serious violations to Cleveland Granite & Marble.
Employers Responsible for Helping Workers Avoid Hearing Loss
According to OSHA, about 30 million people in the U.S. are exposed to hazardous noise while on the job. Noise-related hearing loss has been listed as one of the most prevalent occupational health concerns for more than 25 years. The Bureau of Labor Statistics reported that since 2004, nearly 125,000 workers have suffered from permanent hearing loss. There were more than 21,000 cases in 2009 alone.
This type of hearing loss cannot be repaired. Once the permanent hearing loss takes place, there is no surgery or medical device that can reverse it. The effects are not only physical, but can also reduce productivity, make it more difficult for employees to do their jobs, and cause psychological stress, leading to a reduced quality of life.
In 1981, OHSA established new requirements to protect workers, and required employers to implement a "Hearing Conservation Program" whenever workers are exposed to an average noise level of 85 dBA, or higher, over an 8-hour work shift. That means that employers are supposed to regularly measure noise levels, provide free annual hearing tests, provide free hearing production and training, and make sure that the hearing protection employers are using are working as they're supposed to.'
Employers Responsible for Providing Respiratory Protection
In addition to providing hearing protection, employers like Cleveland Granite & Marble are also supposed to help employees protect themselves against respiratory hazards. Respirators, for example, can help reduce the risk of dust-related diseases.
In March 2016, OSHA announced a final rule to improve protections from silica dust. Drilling and cutting silica-containing materials like concrete and stone, exposes workers to this dangerous material- which can cause lung cancer, silicosis, chronic obstructive pulmonary disease, and kidney disease.
Employers can use equipment to keep the dust from getting into the air, as well as ventilation systems to capture dust.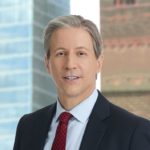 Exclusively focused on representing plaintiffs, especially in mass tort litigation, Eric Chaffin prides himself on providing unsurpassed professional legal services in pursuit of the specific goals of his clients and their families. Both his work and his cases have been featured in the national press, including on ABC's Good Morning America.