No one in this country should go hungry. Unfortunately there are millions that do. The Bed-Stuy Campaign Against Hunger is one organization working to put a stop to this, and Chaffin Luhana LLP is honored to make a donation to them this holiday season on behalf of one of our Associates, Kendra Goldhirsch.
The Bed-Stuy Campaign Against Hunger (BSCAH) is now the "largest pantry in Brooklyn." It started in 1998 and in 2014 it donated 3 million meals to those in New York. "Designed to support its clients' dignity as well as provide nourishment, BSCAH is unusual in allowing its clients to select fresh fruits, vegetables, meats, and other staple items according to their preferences- much as they would in a supermarket." The organization also reaches beyond basic food necessities for the Central Brooklyn community and helps provide services such as health programs, online nutrition resources, help with taxes, develops food systems, and organizes a "SuperPantry."
Kendra, who chose this organization to send her employee charity donation to this year, is impressed by how much the BSCAH does to help others. "I am nominating this charity because it helps to connect local Brooklyn residents with much-needed healthy living programs, financial services, and educational programs," she said.
The Chaffin Luhana Foundation is donating $250 to The Bed-Stuy Campaign Against Hunger (BSCAH).
You can also donate to this wonderful cause by clicking here. You can also contact the BSCAH to learn more about donations at the address below.
The Bed-Stuy Campaign Against Hunger
2010 Fulton Street
Brooklyn, NY 11233
Phone: 718-773-3551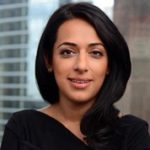 Exclusively focused on representing plaintiffs—especially in mass tort litigation—Roopal Luhana prides herself on providing unsurpassed professional legal services in pursuit of the specific goals of her clients and their families. While she handles complex cases nationwide on behalf of consumers, Ms. Luhana resides with her family in Brooklyn, New York.