On January 12, 2016, a South Dakota woman filed a new Bard IVC filter lawsuit in the U.S. District Court for the Southern District of South Dakota. As all federally filed Bard IVC lawsuits were centralized in the District of Arizona last August, this case will soon be transferred there.
The plaintiff claims that after she was implanted with a Bard Eclipse IVC filter, she suffered serious injuries. She seeks in excess of $75,000 in damages.
Plaintiff's Bard IVC Filter Found to be Embedded Into Internal Organs
According to her complaint, the plaintiff was implanted with the Bard Eclipse IVC filter on October 12, 2012, at the Sanford University of South Dakota Medical Center in Sioux Falls, South Dakota. The filter is a small, cage-like device designed to trap and contain blood clots until they dissipate, to reduce the risk of pulmonary embolism (blood clot in the lung) and other related blood clot disorders.
Filters like the Bard Eclipse are implanted in the inferior vena cava, the main vein that takes blood from the deep veins in the legs back to the lungs and heart. About a year-and-a-half after implantation, the plaintiff underwent medical treatment again at the same medical center. At that time, it was discovered that her filter had migrated from its original position, and become embedded into her internal organs.
The plaintiff's doctor tried to remove the filter, but was unable to do so without causing an increased risk of harm to the plaintiff. As a result, the device remains inside the plaintiff to this day. She claims that as a result, she has suffered and continues to suffer bodily injuries, disability, impairment, disfigurement, emotional and psychological trauma, and anxiety.
Bard Filters Linked with High Risk of Fracture and Migration
Some of the first IVC filters to reach the market were designed to be implanted permanently into the body. Starting in the early 2000s, however, manufacturers created temporary devices that were meant to be retrieved after a short time, and marketed them as useful for patients who were at risk for blood clots, but couldn't manage the condition with medications alone.
Bard was the first to gain FDA approval for such a device in 2013. At the time, it launched its Recovery filter, which was an update on a previous permanent filter called the "Simon Nitinol Filter (SNF)." Bard didn't have to perform clinical trials on this new device, however, as gained FDA clearance through the fast-track 510(k) process, which required them only to prove the device substantially similar to one that was already on the market.
Postmarketing evidence showed that the device did not perform as expected, however. By April 2004, the company had received notice of 3 deaths related to the device migrating to other areas of the body and causing serious injury. Early studies also reported that the device had a fracture and migration rate ranging from 21 percent to 31.7 percent—rates significantly higher than those of other filters.
Bard continued to sell the Recovery until they released the updated G2 filter, including the electropolished version known as the Eclipse, which they released in 2010. This version was supposed to be an improved design over the previous models, with Bard claiming that the electropolishing would increase fracture resistance. Yet, reports of problems continued to come in. Bard IVC filers were linked to not only fracture and migration, but were found to have a high risk of "tilting," which could result in perforation of the vena cava and other bodily organs.
Plaintiff Claims Bard Withheld Damaging Information
The plaintiff claims in her case that, rather than warn the public about the problems with their filters or withdrawing them from the market, Bard continued to sell the products, while making efforts to conceal damaging information about them.
She also asserts that none of the "improved" designs contained meaningful improvements, and that all of Bard's IVC filters contained the same or similar defects. She brings counts of manufacturing defect, information defect, design defect, negligent design, negligent manufacturing, failure to recall/retrofit, failure to warn, negligent misrepresentation, breach of warranties, fraudulent misrepresentation, fraudulent concealment, and more. She seeks both compensatory and punitive damages.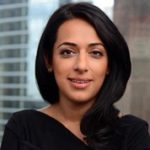 Exclusively focused on representing plaintiffs—especially in mass tort litigation—Roopal Luhana prides herself on providing unsurpassed professional legal services in pursuit of the specific goals of her clients and their families. While she handles complex cases nationwide on behalf of consumers, Ms. Luhana resides with her family in Brooklyn, New York.