More than 2.3 million people worldwide suffer from Multiple Sclerosis. One organization, The National Multiple Sclerosis Society is working to change that. Chaffin Luhana LLP hopes they are able to accomplish eliminating this horrible disease and is honored to make a donation to this organization on behalf of their client accounts administrator, Stephanie Pereyo.
MS is "often a disabling disease of the central nervous system, interrupts the flow of information within the brain, and between the brain and body." Patients suffering from MS can become paralyzed, blind, or experience numbness and tingling. According to The National Multiple Sclerosis Society, "two to three times more women than men" are diagnosed with this between the ages of 20 and 50.
The Chaffin Luhana Foundation is donating $250 to The National Multiple Sclerosis Society in the name of one of our team members, Stephanie Pereyo.
Stephanie has a family member, Chrissy, who suffers from MS, and the loved one's mother also passed away from MS at a young age. Chrissy was diagnosed at an early age and was forced to quit her career as a court reporter because of all of the pain she was in, her ongoing treatment and surgeries she had to endure. Chrissy has two beautiful children and a husband that works to support them. Stephanie said that Chrissy is one of the most caring people she knows and would do anything for anyone. "Thanks to the advancements in technology, she is doing significantly better and is going to start to try and go back to work part-time. Chrissy has been a huge part of our lives. For our wedding we will be donating to The National Multiple Sclerosis Society as our wedding favors in honor of her fight," Stephanie said.
You can help the fight to eradicate MS too. Click on this link to make a donation. You can also send a donation in the mail or over the phone. That information is listed below.
National MS Society
P.O. Box 4527
New York, NY 10163
Phone: 1-800-344-4867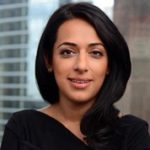 Exclusively focused on representing plaintiffs—especially in mass tort litigation—Roopal Luhana prides herself on providing unsurpassed professional legal services in pursuit of the specific goals of her clients and their families. While she handles complex cases nationwide on behalf of consumers, Ms. Luhana resides with her family in Brooklyn, New York.