On January 9, 2016, another Xarelto lawsuit joined the consolidated litigation in the Eastern District of Louisiana. The MDL was sent there in December 2014.
This time, the plaintiff, a resident of Georgia, brings claims against Xarelto manufacturers Janssen Pharmaceuticals, parent company Johnson & Johnson, and Bayer AG, seeking in excess of $75,000 in damages after taking Xarelto and allegedly suffering serious injuries.
Plaintiff Suffers from Brain Hemorrhage After Taking Xarelto
According to his complaint, the plaintiff was prescribed Xarelto for the treatment of his non-valvular atrial fibrillation, which is a heart rhythm disorder that increases the risk of stroke. The FDA approved Xarelto for the treatment of this condition in 2011.
The plaintiff began taking Xarelto, per his doctor's instructions, around August 2013. A few months later, on January 11, 2014, he suffered a life-threatening intracranial bleed or brain hemorrhage. Because Xarelto has no readily available antidote, the bleeding was irreversible, and the plaintiff had to just "wait it out" until the drug cleared from his system.
The plaintiff alleges that as a result of this injury, he continues to suffer from lasting medical side effects, and has suffered a diminished enjoyment of life.
FDA Reviewers Questioned Once-a-Day Dose
Xarelto is a type of blood thinner known as a "factor Xa inhibitor," and is available in oral tablet doses of 20 mg, 15 mg, and 10 mg. One of the things the defendants advertised was how convenient the medication was, especially in comparison to warfarin, the leading anticoagulant for decades. Unlike patients taking warfarin, those taking Xarelto don't have to go through blood monitoring, and took a convenient once-a-day dose instead of the twice-a-day regular dosing with Warfarin.
Yet in its Quarterwatch publication for the first quarter of 2012, the Institute for Safe Medication Practices (ISMP) noted that, even during the approval process, FDA reviewers questioned the once-a-day dosing scheme, noting that blood level studies had shown "peaks and troughs" that could be eliminated by twice-a-day dosing.
The peaks and troughs seen with one-a-day dosing can be shown by blood tests. Having them indicates that the drug is not acting consistently in the patient, causing more "thinning" than expected at times, and less at other times, which can increase the risk of uncontrollable bleeding in patients taking Xarelto.
The defendants also neglected to warn on their product materials that Xarelto had no readily available antidote. Patients taking warfarin can be treated with vitamin K injections should they suffer excessive bleeding. Patients taking Xarelto, like the plaintiff, have no such option, which makes bleeding potentially much more dangerous.
FDA Sends Warning Letter to Xarelto Manufacturers
The plaintiff in this case also notes that Xarelto manufacturers received a warning letter from the FDA in 2013, because of their misleading advertising. The FDA targeted promotional material for Xarelto and atrial fibrillation, noting that "the print ad is false or misleading because it minimizes the risks associated with Xarelto and makes a misleading claim" regarding dose adjustments.
In the year leading up to June 30, 2012, the FDA received over 1,000 adverse event reports associated with Xarelto. A total of 65 of those involved patients who had died because of injuries or complications. At the end of the 2012 fiscal year, over 2,000 such reports were filed with the FDA. Yet the manufacturers, according to the plaintiff, failed to take appropriate action to protect the public.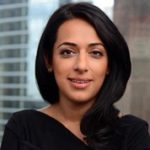 Exclusively focused on representing plaintiffs—especially in mass tort litigation—Roopal Luhana prides herself on providing unsurpassed professional legal services in pursuit of the specific goals of her clients and their families. While she handles complex cases nationwide on behalf of consumers, Ms. Luhana resides with her family in Brooklyn, New York.