It is easy to take our memory for granted, until it is taken away from us. So many people suffer from Alzheimer's and deal with a variety of symptoms that can impact the quality of their lives. Chaffin Luhana LLP is honored to donate to the Alzheimer's Foundation of America on behalf of one of our staff nurses, Mary Kackley.
According to the AFA website, Alzheimer's "is a progressive, degenerative disorder that attacks the brain's nerve cells, or neurons, resulting in loss of memory, thinking and language skills, and behavioral changes." On the other hand, Dementia is a "general term that describes a group of symptoms" that is caused by "the permanent damage or death of the brain's nerve cells, or neurons."
The AFA works to bring awareness about the disease, educate people about what it means, and help those diagnosed with it and their families. The AFA hopes to "ultimately improve quality of life" for those diagnosed with this disease.
Mary's grandmother was diagnosed with Alzheimer's several years ago. Her grandmother has tried numerous medications to help slow the progression of the disease, but Mary says they have not seemed to be helpful. "I hope this donation helps increase knowledge of Alzheimer's and aid in research to find a cure for this disease. Helping the fight against Alzheimer's disease and to one day find a cure is a cause near and dear to my heart," Mary said. This is the second year that Mary chose to send her donation to the Alzheimer's Foundation of America.
The Chaffin Luhana Foundation is donating $250 to the Alzheimer's Foundation of America.
You can help bring awareness to this cause and help those battling it by clicking here. You can also send a donation to the address listed below.
Alzheimer's Foundation of America
322 Eighth Ave., 7th fl.
New York, NY 10001
Phone: 1-866-232-8484 (Toll-Free)
Phone: 1-646-638-1542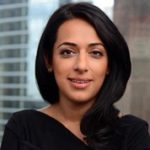 Exclusively focused on representing plaintiffs—especially in mass tort litigation—Roopal Luhana prides herself on providing unsurpassed professional legal services in pursuit of the specific goals of her clients and their families. While she handles complex cases nationwide on behalf of consumers, Ms. Luhana resides with her family in Brooklyn, New York.