Educational opportunities and the betterment of students is something that is very important to Chaffin Luhana LLP. We are pleased to support A Better Chance with a donation on behalf of our Office Manager, Stephanie Murdough.
A Better Chance, founded in 1963, helps young people of color with educational opportunities and success as they embark on their future. The foundation has a "College Preparatory Schools Program (CPSP)" which helps to place students into some of the country's top schools. "Many students of color are unable to realize their full potential because they lack access to quality educational experiences," according to the project.
The Chaffin Luhana Foundation is making a $250 donation on behalf of Stephanie.
A dear friend of Stephanie's was a recipient of the College Preparatory Schools Program. "I can honestly say it completely changed the trajectory of his life," Stephanie said.
If you could like to help this wonderful cause with a donation, click on the link here, or use the address listed below.
A Better Chance
253 West 35th Street, 6th Floor
New York, NY 10001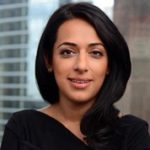 Exclusively focused on representing plaintiffs—especially in mass tort litigation—Roopal Luhana prides herself on providing unsurpassed professional legal services in pursuit of the specific goals of her clients and their families. While she handles complex cases nationwide on behalf of consumers, Ms. Luhana resides with her family in Brooklyn, New York.