Parents whose children have been harmed by infant formulas like Similac and Enfamil are filing lawsuits against the makers of these formulas, claiming they failed to warn about the dangers of feeding their products to premature children.
Several studies have linked baby formula, when fed to premature and low-birth-weight infants, with necrotizing enterocolitis (NEC). This is a dangerous intestinal condition that can lead to life-long health problems and in severe cases, even death.
Manufacturers Market Infant Formula Specifically to Premature Infants
Manufacturers Abbott Laboratories and Mead Johnson have, for years, promoted several of their infant formulas for use specifically in premature infants. The Similac brand, for instance, includes Similac NeoSure, Similac Special Care 20, Similac Special Care 24, Similac Special Care 24 High Protein, and Similac Special Care 30, all of which are marketed specifically for premature infants.
Enfamil, as well, produces formulas marketed specifically for premature babies, including Enfamil NeoPro EnfaCare Infant Formula, Enfamil Premature Infant Formula 20 Cal with Iron, Enfamil 24 Cal Infant Formula, Enfamil Premature Infant Formula 24 Cal High Protein, and more.
The manufacturers make claims about these products that lead doctors and parents to believe they're safe and nourishing to premature infants. These formulas promote "catch-up growth," reads the copy on the Target page, support the baby's immune system, and contain brain-building nutrition. The manufacturer also boasts that the product is "inspired by breast milk" and promotes catch-up growth "similar to full-term breastfed infants."
Studies have shown that human breastmilk is protective against NEC, whereas cow's-milk-based infant formula seems to increase the risk of the disease.
Studies Link Infant Formula to a Higher Risk of NEC
Several studies have found that premature infants fed cow's milk formula (instead of human milk) have a higher risk of developing NEC. In one 2021 study, for instance, researchers compared the medical records of neonates in the NICU (neonate intensive care unit). Some were fed pasteurized donor human milk while others were fed cow's milk formula.
The results showed that formula-fed neonates were more likely to be transferred to the NICU for suspected NEC than those fed human milk.
Other studies have shown similar results. In a 2019 Cochrane review, researchers found that feeding premature infants with formula increases rates of growth during the hospital stay, "but is associated with a higher risk of developing the severe gut disorder called 'necrotizing enterocolitis.'"
Necrotizing enterocolitis (NEC) is a bacterial disease that infects, inflames, damages, and kills the cells in parts or all of the intestines. This destroys the wall of the intestine and can create cracks or gaps that allow bad bacteria to leak into the abdomen, worsening the infection proving to be potentially fatal.
Families Fighting Back Against Infant Formula Manufacturers
Plaintiffs filing Similac and Enfamil lawsuits claim that the manufacturers failed to warn the medical community and the public about the potential dangers of feeding infant formula to premature babies. They also claim that the manufacturers falsely advertise their products when they claim they are similar to human breast milk.
As the number of these lawsuits continues to increase, it is expected that they may be consolidated into one court for coordinated proceedings in the future.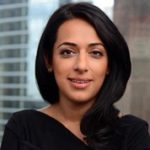 Exclusively focused on representing plaintiffs—especially in mass tort litigation—Roopal Luhana prides herself on providing unsurpassed professional legal services in pursuit of the specific goals of her clients and their families. While she handles complex cases nationwide on behalf of consumers, Ms. Luhana resides with her family in Brooklyn, New York.