Three more plaintiffs have filed Elmiron lawsuits, claiming the interstitial cystitis (IC) medication caused serious vision problems.
Alabama Woman Takes Elmiron for 18 Years, Then Suffers Vision Loss
The first plaintiff is an Alabama woman who filed her case in the U.S. District Court for the District of New Jersey. She was diagnosed with IC, a painful bladder disorder, in 2000. Her doctor prescribed Elmiron—the only FDA-approved treatment for IC—which she took until 2018. During those 18 years, she claims she the manufacturers never warned of, nor did she or her doctors have any knowledge of any vision risks posed by Elmiron.
She claims that as a result of her ingestion of Elmiron, she now suffers from toxic maculopathy, retinal damage, blurred vision, distorted vision, and other visual symptoms. She blames her injuries on Elmiron, which has been linked with these types of vision problems in recent studies.
Georgia Woman Suffers Maculopathy After Taking Elmiron
The second plaintiff is from Georgia and filed her Elmiron lawsuit in the U.S. District Court for the Eastern District of Pennsylvania. According to her complaint, her doctor prescribed Elmiron to treat her painful bladder in 2000. She was later diagnosed with pigmentary maculopathy specifically related to her ingestion of Elmiron.
In November 2018, researchers reported a case series of six patients at Emory Eye Center known to be long-term users of Elmiron. All of them presented with an unusual form of maculopathy that resulted in vision loss. The plaintiff was one of these patients.
Maculopathy is a disease that affects the part of the eye in the back of the retina called the macula, which is responsible for sharp, central vision and controls the ability to read, see fine detail, and recognize faces and colors.
Long-term use of Elmiron has been found to increase the risk of a unique type of maculopathy that creates pigmentary changes in the retina interfering with normal vision.
In 2019, researchers found that about one-quarter of patients with significant exposure to Elmiron showed definite signs of eye damage affecting the macula. Later that same year, another study showed that exposure to Elmiron was associated with a new diagnosis of macular disease at the 7-year follow-up.
Ohio Woman's Doctor Couldn't Figure Out What Was Causing Her Vision Damage
The third plaintiff is from Ohio and filed her complaint in the U.S. District Court for the Southern District of Ohio. According to her complaint, she began treatment with Elmiron about 15-20 years ago. After more than a decade of taking the drug, she began to experience serious symptoms which she now recognizes as evidence of Elmiron toxicity.
She was diagnosed with maculopathy in 2015. Her physician noted that she had damage in her macula, but was unable to determine the cause at the time. Elmiron manufacturers had not yet warned of the possibility of Elmiron-related maculopathy.
In 2017, the plaintiff's doctor ordered genetic testing in the hopes of figuring it out, but the tests were negative. It wasn't until March of 2020 that her doctor, after becoming aware of new studies linking vision damage with Elmiron, diagnosed the plaintiff with macular degeneration likely due to Elmiron exposure.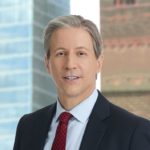 Exclusively focused on representing plaintiffs, especially in mass tort litigation, Eric Chaffin prides himself on providing unsurpassed professional legal services in pursuit of the specific goals of his clients and their families. Both his work and his cases have been featured in the national press, including on ABC's Good Morning America.