A new Elmiron lawsuit has joined the consolidated litigation in the U.S. District Court for the District of New Jersey. In this case, the plaintiff is from Oklahoma and states that after taking Elmiron for a long period of time, she suffered from significant vision damage.
Plaintiff Blames Elmiron for Vision Damage
The plaintiff started taking Elmiron (pentosan polysulfate sodium or PPS) in September 2003. Her doctor prescribed the medication to help relieve the painful bladder pain she was experiencing associated with her interstitial cystitis.
She continued to take the drug, using it as instructed. Then in September 2019, she found that she had suffered changes to the retinal pigmentary epithelium. The retina is a thin layer of tissue that lines the back of the eye. Its purpose is to receive light, convert it into neural signals, and send those signals to the brain for visual recognition.
Retinal endothelial cells line the blood vessels that supply and drain the retina. Scientists and eye doctors have noticed that long-term use of Elmiron can damage these cells, creating "spots" on the retina that obscure vision.
The plaintiff was diagnosed with age-related macular degeneration—a disease that affects central vision—along with other eye injuries in September 2019. She now believes that Elmiron caused her eye damage.
The FDA Hesitated to Approve Elmiron
Elmiron was the first oral medication approved by the FDA specifically to relieve bladder pain or discomfort associated with interstitial cystitis. The agency didn't approve the drug immediately, however.
In 1993. It issued its first non-approval letter to manufacturer Janssen Pharmaceuticals, citing problems with the clinical trial analysis and results. Specifically, the FDA stated that the application lacked the requisite two adequate and well-controlled studies for determining the effects of the drug.
In 1994, the FDA issued a second non-approval letter due, again, to insufficient clinical trial evidence. It wasn't until 1996 that the FDA ultimately approved the drug based on two studies—despite significant concerns.
From that time onward, Janssen received multiple reports from patients detailing injuries including serious visual symptoms and/or retinal damage. It wasn't until 2018 that doctors first reported retinal pigmentary changes in patients using Elmiron for long periods.
Studies Show that Patients Taking Elmiron for Years May Suffer Vision Damage
In the spring of 2018, a team of doctors at Emory Eye Center submitted a letter to the editor of the Journal of Urology reporting findings of unusual retinal pigmentary changes in six patients on long-term Elmiron treatment. The damage resembled nothing else the doctors had ever seen. They later published that case series.
That opened the door to other doctors and scientists to look into the issue, and soon several other studies were published showing that patients using Elmiron for many years were at an increased risk for this unique type of vision damage.
In November 2019, for instance, researchers found that patients taking Elmiron for seven years or longer were at an increased risk for vision damage. Yet the manufacturers didn't update the warning label on the product to reflect this risk until June 2020.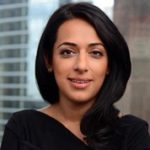 Exclusively focused on representing plaintiffs—especially in mass tort litigation—Roopal Luhana prides herself on providing unsurpassed professional legal services in pursuit of the specific goals of her clients and their families. While she handles complex cases nationwide on behalf of consumers, Ms. Luhana resides with her family in Brooklyn, New York.