Patients suffering from wet age-related macular degeneration (AMD) who have been treated with the drug Beovu (brolucizumab) may be at an increased risk for another type of vision loss.
Though the drug is designed to treat and prevent further vision loss, recent research has suggested that particularly in some patients, it may increase the risk of "retinal vasculitis," a condition that can lead to severe vision loss.
Novartis Claims Beovu Works Better than Other Wet AMD Treatments
In October 2019, the U.S. Food and Drug Administration (FDA) first approved Beovu. It belongs to a class of drugs known as anti-VEGF drugs, which stands for "vascular endothelial growth factor." VEGF is a type of protein that the body needs to produce new blood vessels. People with wet AMD, however, cannot develop too many blood vessels under the retina where they can leak and cause vision damage.
Anti-VEGF drugs block VEGF, slowing the growth of the problematic blood vessels in the eye. Doctors use these medications to treat wet AMD and other eye diseases to help slow vision loss.
There were already three main anti-VEGF drugs on the market when the FDA approved Beovu: Avastin, Lucentis, and Eylea. All had proven to be effective, but Novartis, which manufactures Beovu, stated in its press release that Beovu had proven in clinical trials to work better than these other medications, while still being just as safe.
Yet just a few months after it came onto the market, the American Society of Retinal Specialists (ASRS) alerted doctors to a dangerous new condition they were seeing in patients using Beovu: retinal vasculitis.
Beovu Linked to Serious Eye Damage
In February 2020, the ASRS notified retinal specialists that they'd received 14 reports of vasculitis—an inflammatory condition affecting the eye—in patients who had been treated with Beovu. In 11 of those reports, the patients developed occlusive retinal vasculitis, a more serious type that can lead to blindness.
Vasculitis refers to an inflammation of the blood vessels. In this case, the inflammation occurs in those blood vessels supplying the retina with blood and nutrients. Retinal vasculitis means those blood vessels have become inflamed. If the inflammation is severe, it can swell and scar the blood vessels causing a blockage that prevents blood from passing through, a condition called occlusive retinal vasculitis.
Novartis responded to the ASRS report by stating it was aware of the cases and had initiated an independent investigation of both the post-marketing data and the original data from the original clinical trials. These were called the HAWK and HARRIER trials.
On April 8, 2020, the company issued a press release detailing the results of the investigation, which showed a "confirmed safety signal of rare adverse events of retinal vasculitis and/or retinal vascular occlusion that may result in severe vision loss." The risk of this type of complication was higher in patients who had pre-existing inflammation in the eye. The company stated it would work with the FDA to update the product warnings, and the FDA approved the label update in June 2020.
Patients taking the drug between October 2019 when it was approved and June 2020 when the new warnings were put into place lacked the information they needed to make an informed decision about the safety of the product.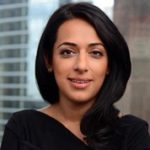 Exclusively focused on representing plaintiffs—especially in mass tort litigation—Roopal Luhana prides herself on providing unsurpassed professional legal services in pursuit of the specific goals of her clients and their families. While she handles complex cases nationwide on behalf of consumers, Ms. Luhana resides with her family in Brooklyn, New York.