Back in December 2020, the U.S. Judicial Panel on Multidistrict Litigation (JPML) ordered all federally filed Elmiron lawsuits to be transferred to the District of New Jersey for consolidated pre-trial proceedings.
Now, the New Jersey Supreme Court has received an application from plaintiffs looking to establish multicounty litigation (MCL) for all Elmiron lawsuits in the state.
How Does an MCL Compare to an MDL??
Multidistrict litigation (MDL) and multi-county litigation (MCL) are similar in that they both involve lawsuits that share one or more common questions of fact, and they both seek to prevent inconsistent rulings made in different courts.
In an MDL, lawsuits filed in different states are brought together into one federal district court. The goal is to help better manage the complex litigation, consolidating discovery and pretrial motions so that the parties save money and time.
For example, rather than having to take a deposition from a plaintiff's expert over and over again in various courts, the parties can do so only once and then share the resulting testimony.
An MCL is similar, except that instead of pulling together cases from all over the nation, lawsuits filed in multiple counties across a single state are brought together into one court in that state. The goal of conducting more efficient pre-trial proceedings is the same.
Plaintiffs Request Multi-County Litigation for Elmiron State Cases
In December 2020, the U.S. JPML brought together all Elmiron lawsuits filed in federal courts around the country into one court in the District of New Jersey for pre-trial proceedings. The parties there are now working toward preparing a limited amount of cases for early bellwether trials.
On September 7, 2021, the Honorable Glenn A. Grant, Acting Administrative Director of the New Jersey Courts, announced that the New Jersey Supreme Court had received an application from the plaintiffs requesting multi-county designation of the New Jersey state court Elmiron litigation against manufacturer Janssen Pharmaceuticals and parent company Johnson & Johnson.
Judge Grant noted that anyone wishing to comment or object to the application "should provide such comments or objections in writing, with relevant supporting documentation, by October 10, 2021…"
Should the MCL be approved, all New Jersey state Elmiron cases would likely be transferred to one court (yet to be determined) in New Jersey. The process would then proceed very much like an MDL, with the parties coordinating discovery and the other steps needed to prepare a few cases for an early trial.
Elmiron Linked to an Increased Risk of Vision Damage
Elmiron is a prescription drug FDA-approved to manage the symptoms of interstitial cystitis, a painful bladder condition. It must be taken continuously to provide relief, which means most patients are on it for long periods.
In 2018, Dr. Neiraj Jain and colleagues wrote a letter to the editor of the Journal of Urology alerting readers to a new condition they were seeing among their patients taking Elmiron. Specifically, they had observed unhealthy vision changes in six patients who had been using Elmiron for several years.
After that, researchers conducted multiple studies on patients who had taken Elmiron and found that long-term use increased the risk of vision damage. Despite previous complaints about this issue, Janssen failed to warn about this serious side effect until June 2020.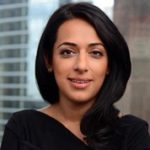 Exclusively focused on representing plaintiffs—especially in mass tort litigation—Roopal Luhana prides herself on providing unsurpassed professional legal services in pursuit of the specific goals of her clients and their families. While she handles complex cases nationwide on behalf of consumers, Ms. Luhana resides with her family in Brooklyn, New York.