In September 2019, a jury in New Brunswick, New Jersey, ordered Johnson & Johnson (J&J) to pay $37.2 million in a baby powder lawsuit. Four plaintiffs had filed the lawsuit, claiming J&J should be held liable for failing to warn that their talc-based products could be contaminated with cancer-causing asbestos.
The jury determined that the company contributed to the development of cancer in the plaintiffs, and awarded the money for actual damages. They planned to consider punitive damages at a later date.
That date has now come and gone, and the New Jersey jury ordered J&J to pay an additional $750 million in punitive damages. Following the verdict, District Judge Ana V. Viscomi reduced the award to $186.5 million, per state law limits.
Jury Determines that J&J's Conduct Warranted Punishment
The four plaintiffs all claimed that their parents had used J&J's talc-based products—including Baby Powder and Shower to Shower—on them while they were growing up, thus potentially exposing them to asbestos for many years. They had all been diagnosed with mesothelioma—a rare type of cancer caused by asbestos—at the time of the lawsuit's filing. One of the plaintiffs died after the initial September verdict.
The plaintiffs claimed that J&J was aware that their products could be contaminated with asbestos, but failed to warn consumers. This verdict was one of several losses for J&J, which has maintained throughout talc-based powder litigation that its products are safe.
After two weeks of hearing evidence, the New Jersey jury took two hours to deliberate and decided that J&J's conduct in manufacturing and marking its talc-based products warranted punishment. J&J vowed to appeal the verdict.
J&J's Internal Documents Reveal Awareness of Asbestos Contamination
J&J has so far lost five talc-based product lawsuits and won eight. The company still faces more than 16,000 lawsuits filed by plaintiffs who claim to have developed cancer after using the products for years.
Reuters reported in December 2018 that J&J knew its powder was sometimes tainted with asbestos, yet concealed that information from regulators and the public. With the increase in lawsuits against the company, J&J has been compelled to produce thousands of internal documents, including company memos and reports.
Reuters examined many of those documents, along with deposition and trial testimony, and discovered that between 1971 and the early 2000s, J&J's raw talc and finished powders "sometimes tested positive for small amounts of asbestos, and that company executives, mine managers, scientists, doctors, and lawyers fretted over the problem of how to address it while failing to disclose it to regulators or the public."
J&J used an Italian supplier back in the 1950s, and company reports described contaminants in that talc that included asbestos. Additional reports indicated similar findings in both the talc and finished powder products.
J&J also faces thousands of lawsuits concerning its products and ovarian cancer. In 2018, the company was ordered by a Missouri court to pay $4.7 billion in damages to 22 women who claimed their use of the company's products caused them to suffer from ovarian cancer. J&J has appealed that verdict.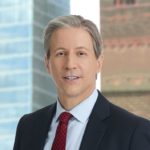 Exclusively focused on representing plaintiffs, especially in mass tort litigation, Eric Chaffin prides himself on providing unsurpassed professional legal services in pursuit of the specific goals of his clients and their families. Both his work and his cases have been featured in the national press, including on ABC's Good Morning America.