Judge Freda L. Wolfson, who is presiding over centralized pretrial proceedings in the Johnson & Johnson (J&J) talcum powder litigation in New Jersey, recently ordered that the plaintiffs can move forward with their claims, though they will have to adhere to some limits on expert testimony.
J&J had previously tried to block these cases from proceeding by calling into question the legitimacy of the science being presented by the plaintiffs' experts.
J&J Questions Science Linking Talc to Ovarian Cancer
Might using talcum powder for feminine hygiene purposes lead to ovarian cancer? That is the question facing juries in J&J baby powder lawsuits. Plaintiffs claim that after using the product for years, they developed ovarian cancer, and they blame J&J for failing to ensure their products were safe. They also note that the company's talc sometimes tested positive for the presence of asbestos, a known carcinogen.
Though plaintiffs have won verdicts against J&J several times over the past couple of years, there has been some dispute in the courts about whether baby powder can cause ovarian cancer. In October 2017, Los Angeles Superior Court Judge Maren Nelson dismissed a $417 million talc verdict, affirmed on appeal in 2019, stating the plaintiff didn't provide enough scientific evidence to support the claim.
Following that ruling, J&J questioned the plaintiffs' scientific experts in New Jersey, particularly the talc-testing procedures used by William Longo, Ph.D. According to J&J, Longo and other experts planning to testify for the plaintiffs used unreliable and unscientific methods when testing baby powder.
In a hearing before Judge Wolfson, Longo testified he used the same methods J&J had used in the past to check for the presence of asbestos. J&J continues to dispute that.
J&J also questioned the validity of the claim that talc, even when untainted by asbestos, can cause ovarian cancer. In a 2020 study of more than 250,000 women published in JAMA, scientists found no link between the use of powder in the genital area and the risk of ovarian cancer in women, though the researchers acknowledged the study was "underpowered" to identify a small increase in risk.
Judge Rules Plaintiffs Can Proceed with Expert Testimony
Despite these concerns, District Judge Wolfson recently ruled that plaintiffs may present expert testimony that J&J's talc products can cause cancer-based on epidemiological studies. Plaintiffs may also testify that the talc could be contaminated with asbestos and heavy metals, which could then damage cells in the ovaries.
The judge did bar the plaintiffs from testifying that inhaling talc could have any negative effects on ovarian health.
This decision will now allow the New Jersey litigation to move forward. Currently, J&J faces about 16,000 talc-related lawsuits around the country, with most of those having been transferred to New Jersey for coordinated proceedings. In addition to claims related to ovarian cancer, the company also faces claims related to mesothelioma, a particular type of lung cancer caused by asbestos.
In a 2018 report, Reuters revealed that J&J knew its raw talcum powder sometimes tested positive for asbestos, yet failed to reveal this information to regulators or the public. In October 2019, J&J agreed to recall one lot of baby powder, after the U.S. Food and Drug Administration (FDA) found asbestos in one sample tested.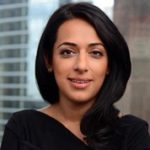 Exclusively focused on representing plaintiffs—especially in mass tort litigation—Roopal Luhana prides herself on providing unsurpassed professional legal services in pursuit of the specific goals of her clients and their families. While she handles complex cases nationwide on behalf of consumers, Ms. Luhana resides with her family in Brooklyn, New York.