When 22 women banded together to file a talcum powder lawsuit against manufacturer Johnson & Johnson, it was unclear how juries would see the evidence. The women alleged that after using Johnson's Baby Powder for years, they developed ovarian cancer. They blamed the company for failing to alert them to the danger, claiming it was aware its raw talc could be contaminated with cancer-causing asbestos.
In July 2018, a St. Louis jury awarded the plaintiffs $500 million in compensatory damages and over $4.1 billion in punitive damages. J&J appealed, requesting the Missouri appeals court throw out the verdict, but the appeals court rejected that request. It did, however, reduce the amount of the verdict to $2.1 billion—$500 million in actual damages and $1.62 billion in punitive damages.
J&J appealed again to the Missouri Supreme Court. On November 3, 2020, the court rejected the appeal, refusing to overturn the $2.1 billion verdict. J&J stated it plans to appeal to the U.S. Supreme Court.
J&J Loses Repeated Attempts to Overturn Missouri Verdict
The 22 women were the first to go to trial against J&J claiming that the company's talc-based products led to their ovarian cancer diagnoses. Documents in the case and reported by Reuters showed that the company was aware its raw talc had sometimes tested positive for asbestos, yet it failed to provide adequate warnings to consumers.
According to Reuters, deposition and trial testimony, as well as company memos, internal reports, and other confidential documents, show that from at least 1971 to the early 2000s, J&J's raw talc and finished powders sometimes tested positive for small amounts of asbestos, while company executives expressed concern over the issue and how to address it. None of this was revealed to regulators or the public.
The 22 women used this evidence in their case, which likely led the jury to decide in their favor. J&J was confident the decision would be overturned upon appeal, but so far that hasn't been the case. After the Missouri Appeals Court rejected the company's appeal, it stated the verdict was "fundamentally flawed" and "ground in faulty presentation of the facts."
Nevertheless, J&J stated it will set aside a $2.1 billion reserve for the verdict.
J&J Insists Baby Powder is Safe While Facing Over 21,000 Lawsuits
J&J currently faces over 21,000 lawsuits filed by plaintiffs claiming that the talc products caused cancer because of contamination from asbestos. Asbestos commonly occurs naturally underground near talc and can contaminate raw ingredients if not properly handled.
In May 2020, J&J announced that it would stop selling talc-based Baby Powder in the U.S. and Canada. It stated in its press release:
"Demand for talc-based Johnson's Baby Powder in North America has been declining due in large part to changes in consumer habits and fueled by misinformation around the safety of the product and a constant barrage of litigation advertising."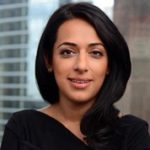 Exclusively focused on representing plaintiffs—especially in mass tort litigation—Roopal Luhana prides herself on providing unsurpassed professional legal services in pursuit of the specific goals of her clients and their families. While she handles complex cases nationwide on behalf of consumers, Ms. Luhana resides with her family in Brooklyn, New York.