On September 20, 2017, Hurricane Maria hit the island of Puerto Rico, wreaking havoc and widespread destruction. The rain lasted for longer than 30 hours, the winds sustained at 155 miles per hour. In one day, the island saw 30 inches of rain—the same amount Houston received during Hurricane Harvey over the course of three days. Two weeks later, most of the residents still lacked access to electricity and clean water.
In response to the great need, the Hispanic Federation, together with other government, community, and philanthropic institutions and leaders, created the UNIDOS Disaster Relief and Recovery Program to serve the immediate and long-term needs of families and communities on the island.
"Hurricane Maria devastated Puerto Rico," says Chaffin Luhana team member and Associate Kendra Goldhirsch, "leaving 3.5 million residents without electricity and communications within and outside the island." She adds that one hundred percent of the proceeds raised by UNIDOS will help hurricane victims and the recovery efforts through fellow community and civic organizations in Puerto Rico.
So far, 125,000 people have donated to UNIDOS, which has supported the delivery of 2.5 million pounds of water, food, and provisions to over 40 municipalities; 19 relief flights with provisions, medical supplies, and emergency personnel; and 160 patients evacuated for emergency care.
"I've selected this charity to provide some relief and assistance for the ongoing disaster recovery that is needed in Puerto Rico," Goldhirsch said.
At Goldhirsch's request, the Chaffin Luhana Foundation is donating $250 to UNIDOS. If you'd like to contribute as well, you can make a donation via the information listed below:
Unidos c/o Hispanic Federation
55 Exchange Place, 5th Floor
New York, NY 10005
866-HF-AYUDA
Web: https://www.hispanicfederationunidos.org/
To Donate: https://hispanicfederation.org/unidos/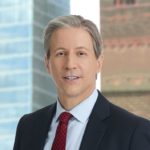 Exclusively focused on representing plaintiffs, especially in mass tort litigation, Eric Chaffin prides himself on providing unsurpassed professional legal services in pursuit of the specific goals of his clients and their families. Both his work and his cases have been featured in the national press, including on ABC's Good Morning America.