The National Institute on Drug Abuse (NIH) found that in 2016, attitudes among American students had improved when it came to drug abuse. Past-year use of illicit drugs other than marijuana declined, to the lowest level in the history of the survey.
The discouraging news was that there was a general decline in the perceived risk of harm in using a number of substances. Fewer 8th graders, for example, felt that taking Ecstasy or "bath salts" occasionally was harmful, and among 10th graders, there was a decrease in the percentage of students who felt that trying inhalants, taking crack or vicodin, or using inhalants regularly was harmful.
Where marijuana is concerned, we have more discouraging news. The Recovery Village states that more high school seniors smoke pot than smoke cigarettes, and in 2015, they were about as likely to smoke marijuana as they were to drink. Over a third of them smoked pot in the last year, whereas about 16 percent of 10 graders had done so. Only a third of seniors felt that regular use of marijuana was harmful.
This reflects a lack of awareness of how dangerous these substances can be. D.A.R.E. (Drug Abuse Resistance Education) has a mission to help educate kids on these dangers. The program establishes a police officer-led series of classroom lessons that teach children from kindergarten through 12th grade how to resist peer pressure and live drug-free lives. Currently, these programs are implemented in 75 percent of the nation's school districts.
Chaffin Luhana team member and Office Manager Stephanie Murdough is familiar with the D.A.R.E. chapter in New Hampshire, and admires the work they do.
"Currently my home state of New Hampshire is in the midst of an opioid drug epidemic," she says, "where the number of individuals suffering from overdoses has skyrocketed. Programs like D.A.R.E. have never been more important in teaching young people the risk of engaging in drug use by educating them on the dangerous, and sometimes deadly, consequences as well as giving them a forum to discuss the crisis, and the tools to stay healthy and away from drugs."
At Murdough's request, the Chaffin Luhana Foundation is donating $250 to D.A.R.E. New Hampshire to support their work in schools. If you'd like to contribute as well, you can make a donation via the information listed below:
D.A.R.E. New Hampshire
NH Department of Safety
33 Hazen Drive, Room 200
Concord, NH 03305
Web: https://www.dare.org/new-hampshire/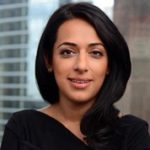 Exclusively focused on representing plaintiffs—especially in mass tort litigation—Roopal Luhana prides herself on providing unsurpassed professional legal services in pursuit of the specific goals of her clients and their families. While she handles complex cases nationwide on behalf of consumers, Ms. Luhana resides with her family in Brooklyn, New York.