The National Women's Law Center (NWLC) states that after a detailed gender analysis of U.S. Census poverty, income, and health insurance data from 2015, they found that women's poverty rates were substantially above the poverty rates for men. More than one in eight women lived in poverty in 2016, with families headed by single moms 5.4 times more likely than married couples to live in poverty.
In New York, 14.8 percent of women lived in poverty in 2016. Being in that situation can make it difficult to afford the type of attire that most would expect for a job interview. Women may want to get better jobs and move up in life, but have trouble competing with their peers who can afford to look the part.
Holly Culbertson, Senior Paralegal/Case Manager, knows what it's like to be a single mom struggling to make a good life for her child. "I was a single parent with a daughter," she says, "and financially things were hard for many years." To help other women experiencing similar hard times, she has asked the Chaffin Luhana Foundation to give to "Dress for Success," an international not-for-profit organization that empowers women to achieve economic independence.
The organization got its start in 1997 and has now expanded to almost 150 cities in 20 countries. The New York Program alone has three locations, in Manhattan, Queens, and the Bronx. All sites provide both professional attire to help women secure employment, as well as employment retention services. They cater to clients who are employment ready and have an interview scheduled, and receive referrals from a number of community-based partner agencies, including the Bowery Resident's Committee, The Bride, and the Center for Urban Education.
Culbertson says: "Having charities like this one that provide interview clothing, education on how to interview for jobs, counseling, and access to computers and classes to upgrade their skill set—and most importantly, that assist in giving women power to be self-sufficient for themselves and their children—is very important today."
Chaffin Luhana is pleased to donate $250 to Dress for Success during the holiday season. If you'd like to contribute as well, you can make a donation via the information listed below:
Dress for Success
32 East 31st Street
New York, NY 10016
646-233-4959
Web: https://newyork.dressforsuccess.org/
To Donate: https://newyork.dressforsuccess.org/get-involved/donate/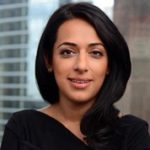 Exclusively focused on representing plaintiffs—especially in mass tort litigation—Roopal Luhana prides herself on providing unsurpassed professional legal services in pursuit of the specific goals of her clients and their families. While she handles complex cases nationwide on behalf of consumers, Ms. Luhana resides with her family in Brooklyn, New York.