A Minnesota man recently filed a new paraquat lawsuit in the U.S. District Court for the Northern District of California. He claims that after being exposed to the toxic herbicide, he suffered from serious injuries.
Plaintiff Claims Paraquat Caused his Parkinson's Disease
Paraquat is classified as a restricted-use pesticide under federal law, which means that it is limited to use only by certified applicators. In 2016, the U.S. Environmental Protection Agency (EPA) required specialized training for applicators to emphasize safety measures and to make applicators aware of the dangers of the product.
Because paraquat is highly toxic, the form marketed in the United States has a blue dye to keep it from being confused with beverages, as well as a sharp odor that serves as a warning. The chemical is widely used as an herbicide, primarily for weed and grass control, but is not approved for residential use.
According to his complaint, the plaintiff was exposed to paraquat from 2005 until 2012 via one or more of these routes:
When it was mixed, loaded, applied, and/or cleaned
As a result of spray drift
As a result of contact with sprayed plants
The plaintiff states that during this time, the defendants who manufacture paraquat products were well aware that it could enter the human body through absorption or penetration of the skin, mucous membranes, and other tissues, through the olfactory bulb, through respiration into the lungs, and through ingestion into the digestive tract of small droplets swallowed.
As a result of his exposure, the plaintiff claims that he developed Parkinson's disease.
Studies Link Paraquat to Parkinson's-Like Brain Damage
Parkinson's disease is a neurodegenerative disorder of the brain that affects the motor system and movement. Symptoms typically include tremors, rigidity, impaired balance, and slow reflexes. As the disease progresses, it can also cause slurred speech, muscle spasms, impaired coordination, difficulty swallowing, and stooped posture, as well as sleep disturbances and constipation.
There is no cure for Parkinson's disease. Instead, doctors focus on controlling symptoms with medications and lifestyle changes.
The plaintiff links his exposure to paraquat with his Parkinson's disease because of studies that have suggested the two may be connected. One of the primary signs of Parkinson's disease is the degeneration and death of dopamine-producing neurons in the brain.
Dopamine is a neurotransmitter that is critical to the brain's control of motor function. Once the neurons producing this neurotransmitter die, they are not replaced. When enough neurons are killed, dopamine production falls below the level the brain requires for proper control of motor function.
Paraquat creates oxidative stress that causes or contributes to the degeneration and death of dopamine-producing neurons, according to scientific studies. In a 2002 animal study, for instance, researchers found that paraquat injections killed dopaminergic neurons in the brain—the same neurons that are damaged in PD.
The plaintiff brings counts of design defect, failure to warn, negligence, and breach of warranties.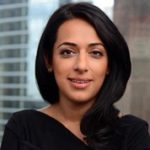 Exclusively focused on representing plaintiffs—especially in mass tort litigation—Roopal Luhana prides herself on providing unsurpassed professional legal services in pursuit of the specific goals of her clients and their families. While she handles complex cases nationwide on behalf of consumers, Ms. Luhana resides with her family in Brooklyn, New York.