Insurance companies are feeling the heat when it comes to coronavirus insurance lawsuits. Many have denied claims filed by businesses seeking coverage for virus-related losses, so now those companies are filing lawsuits in an attempt to recover damages.
According to a complaint tracker published by an international firm, businesses have so far filed 138 coronavirus insurance lawsuits—all of them alleging that the insurance companies are refusing to honor claims for business interruption coverage.
Government shutdown orders forced thousands of business owners to close their businesses through no fault of their own. These individuals lost significant funds during those shutdowns and believed their business interruption insurance would cover their losses. Many small business owners have been surprised at the insurance companies' resistance to help, and the backlash is growing.
Business Owners Paid for Business Interruption Coverage that Now Seems Useless
Indeed, it seems the courts are about to be overrun with lawsuits related to the pandemic. Many of those are filed by businesses seeking insurance payouts, while others are filed by consumers wanting cashback from concert ticket vendors, gyms, and airlines, among others. College students are demanding tuition money back, while nurses and retail workers are alleging their workplaces subjected them to unsafe conditions.
The outlook is likely to be unprecedented in scale. When looking at business insurance lawsuits alone, the volume is gradually increasing. The Insurance Business Magazine reported in later April that six insurers faced federal class-action lawsuits for denying business interruption claims. These include Aspen American Insurance, Auto-Owners Insurance, Lloyd's of London, Society Insurance, Oregon Mutual Insurance, and Topa Insurance Co.
Businesses purchase expensive special business interruption insurance to protect their businesses should they be halted because of physical loss associated with fire, natural disaster, leaking water pipes, and other similar situations out of the owner's control. The policies typically include business income coverage.
Some insurance companies, after the SARS outbreak years ago, added verbiage specifically excluding virus-related losses. Others have not added such verbiage, however, and do not expressly exclude losses caused by viral infections. Either way, companies claim that viral-related losses are a type of physical damage. Many small businesses that stretched their dollars to pay for these policies, after being denied COVID-19 coverage, are feeling like these policies were essentially a waste of money.
As these types of lawsuits increase, there has been discussion of consolidating such cases for more efficient pretrial proceedings. On April 20, 2020, two motions were filed with the U.S. Judicial Panel on Multidistrict Litigation (JPML) to consolidate all federally filed cases accusing insurers of dodging business interruption claims. It's unclear at the time of this writing whether the JPML will agree to consolidate.
States Considering Bills to Help Business Owners
The key question in these lawsuits is whether the pandemic caused physical damage or property loss, which is what business interruption insurance is mainly meant to cover. Another related question is whether insurance coverage should apply when the virus is present in or near the business property.
Some plaintiffs' legal counsels are resisting consolidation, noting that insurance questions are a matter of state law. Meanwhile, some states are considering legislation that would compel insurance companies to cover COVID-19 related losses, particularly for small companies with 100 employees or so.
New Jersey was the first state to propose a bill that would require insurers to cover these losses, but several other states have followed, including Pennsylvania, New York, Louisiana, Ohio, Massachusetts, and South Carolina. None of the proposed bills have yet been passed.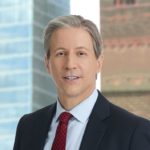 Exclusively focused on representing plaintiffs, especially in mass tort litigation, Eric Chaffin prides himself on providing unsurpassed professional legal services in pursuit of the specific goals of his clients and their families. Both his work and his cases have been featured in the national press, including on ABC's Good Morning America.