A Kansas couple recently filed a new paraquat lawsuit in the U.S. District Court for the Southern District of Illinois. They claim that the husband, after being exposed to the herbicide paraquat, developed Parkinson's disease. They seek compensatory and punitive damages.
On June 7, 2021, the U.S. Judicial Panel on Multidistrict Litigation (JPML) ordered all federally filed paraquat lawsuits consolidated in the Southern District of Illinois under the guidance of District Judge Nancy J. Rosenstengel.
Plaintiff Didn't Realize Paraquat Could Increase the Risk of Parkinson's Disease
Since 1964, paraquat has been used in the United States to kill broadleaf weeds and grasses before the planting and emergence of more than 100 fields, fruit, vegetable, and plantation crops, to control weeds in orchards, and to desiccate (dry) plants before harvest.
Paraquat is highly toxic to both plants and animals and kills by creating oxidative stress that causes or contributes to the degeneration and death of plant cells. It can injure and kill human and animal cells in the same way.
According to the complaint, the plaintiff applied paraquat to farm fields between 1985 and 2003 in Moundridge, Kansas. During that time, he was repeatedly exposed to and inhaled, ingested, or absorbed the herbicide.
In 2005, the plaintiff was diagnosed with Parkinson's disease. At first, he did not connect his diagnosis to his use of paraquat. No doctor or any other person told him that the two could be related. It wasn't until shortly before filing the lawsuit that he became aware of paraquat's potential link to the neurological disease.
Plaintiff Notes that Toxic Effects of Paraquat Have Been Known for Decades
Though the Environmental Protection Agency (EPA) requires paraquat applicators to be certified—so that they understand the risks involved in using paraquat and take all the recommended precautions—it is still possible for applicators to be exposed to the herbicide. It can happen as a result of spills, splashes, and leaks; while emptying or cleaning clogged spray nozzles, lines, or valves; or when walking through fields that have been treated.
The plaintiff states that paraquat manufacturers could have foreseen that paraquat could enter the human body via absorption through or penetration of the skin, mucous membranes, and other tissues, including those in the mouth and nose, or where cuts, abrasions, rashes, or other wounds were present.
Meanwhile, paraquat's toxic properties have been known since at least 1930. Studies linking its use to a potential increased risk of Parkinson's disease have been around for decades. Hundreds of laboratory studies found that paraquat creates oxidative stress that kills dopaminergic neurons—the same ones that are damaged in patients with Parkinson's disease.
Many epidemiologic studies, as well, have found an association between paraquat exposure and Parkinson's disease, including several showing a two- to five-fold or greater increase in the risk of the disease in populations with occupational exposure to the herbicide.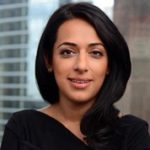 Exclusively focused on representing plaintiffs—especially in mass tort litigation—Roopal Luhana prides herself on providing unsurpassed professional legal services in pursuit of the specific goals of her clients and their families. While she handles complex cases nationwide on behalf of consumers, Ms. Luhana resides with her family in Brooklyn, New York.