For years now, there has been a debate about whether Monsanto's Roundup weed killer causes cancer. On March 20, 2015, the International Agency for Research on Cancer (IARC) released a statement saying that the herbicide glyphosate—the main ingredient in Roundup—was "probably carcinogenic to humans." Monsanto—a subsidiary of Bayer AG as of 2018—argued the opposite, claiming that the IARC didn't consider all published studies when coming to their conclusion that the weed killer can cause cancer.
Meanwhile, thousands of plaintiffs have filed lawsuits against Monsanto/Bayer, claiming that they failed to warn about the risks associated with their product, and knowingly concealed information about its links to cancer. In October 2016, the U.S. Judicial Panel on Multidistrict Litigation (JPML) consolidated all federally-filed Roundup lawsuits into one court in the U.S. District Court for the Northern District of California for coordinated pre-trial proceedings in San Francisco.
Now, in the first bellwether trial in the federal Roundup Multi-District Litigation, a jury has reached a decision that Roundup caused the plaintiff's cancer.
First Bellwether Trial Links Roundup to Non-Hodgkin's Lymphoma
Currently, about 750 Roundup cases are pending in the Roundup MDL, with thousands more in other courts across the country. This first MDL bellwether trial involved a 70-year-old plaintiff who claimed that he used the weed killer for more than 25 years on his property in California. The spray frequently got on his skin and face. In 2015, he was diagnosed with stage 3 non-Hodgkin's lymphoma.
In the first phase of the trial, the jury had to determine whether Roundup weed killer caused the plaintiff's cancer. Since there was a debate as to whether the science supports causation, the court wanted to address this issue first.
After five days of deliberation, the jury concluded that Roundup was a substantial factor in causing the plaintiff's cancer. The trial now moves to the second phase, in which the jury will determine whether Monsanto/Bayer should be held liable for the plaintiff's injuries.
The defendants expressed their disappointment with the jury's finding and argued that the science confirms that glyphosate herbicides do not cause cancer.
The second bellwether trial in the Roundup MDL is scheduled to begin in May, with a third place later in the year.
First Roundup Case Results in Award for the Plaintiff
Though this is the first case to go to trial in Roundup MDL, it is the second Roundup case to reach a jury. The first took place in state court California presided over by Judge Suzanne Bolanos.
The plaintiff—a groundskeeper and pest-control manager at a Northern California school district—alleged that he sprayed a high-concentration version of Roundup called "Ranger Pro" about 20-30 times a year for 2-3 hours a day. He also asserted that he was drenched with the herbicide by mistake on two occasions—once when a spray hose became detached from the truck that was hauling it, and once when the chemical leaked onto his back.
He was diagnosed with an aggressive form of non-Hodgkin's lymphoma in October 2014, which he blamed on his glyphosate exposure. His case went to trial in 2018, and the jury awarded him $39 million in compensatory damages and $250 million in punitive damages. The court later reduced the award to $78 million, and that case is currently on appeal.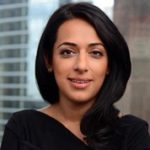 Exclusively focused on representing plaintiffs—especially in mass tort litigation—Roopal Luhana prides herself on providing unsurpassed professional legal services in pursuit of the specific goals of her clients and their families. While she handles complex cases nationwide on behalf of consumers, Ms. Luhana resides with her family in Brooklyn, New York.