On April 8, 2022, all federally filed NEC infant formula lawsuits were consolidated into the Northern District of Illinois for pre-trial proceedings. Now, the court indicates that plaintiffs may soon be able to file new cases directly in the federal court rather than having to go through their home states.
Court Recommends Direct Filing to MDL
When the U.S. Judicial Panel for Multidistrict Litigation (JPML) ordered the consolidated litigation, that set up a process requiring that any case filed throughout the federal court system be transferred to the Northern District of Illinois.
Initially, the district court was planning on leaving things as they were, with families filing their lawsuits in appropriate federal courts, and then going through the transfer process to Illinois. But now, the court has indicated that it will allow direct filing in the MDL to avoid unnecessary expenses and delays.
In a proposed case management order, District Judge Rebecca R. Pallmeyer, who is overseeing the pre-trial proceedings, acknowledged that the parties disagree on the appropriateness of direct filing, but recognized that it may minimize the time and costs associated with transferring.
Direct filing eliminates the administrative burdens of transfer on both the parties and the courts and provides the MDL court the ability to try to settle the cases without ever having the obligation to remand them to their home districts.
Pallmeyer also acknowledged that direct filing may generate uncertainty and confusion regarding personal jurisdiction, venue, and choice of law issues in any individual case, but argued that the court can take steps to ensure clarity on these matters.
To that end, the court has drafted an order and invited counsel to review it, after which the court will consider the next steps.
Number of Cases Increasing in Infant Formula MDL
So far, nearly 100 cases are pending in the NEC litigation. Plaintiffs claim that the makers of Similac and Enfamil failed to provide appropriate warnings about the dangers associated with their products, particularly for premature infants.
NEC (necrotizing enterocolitis) is a dangerous intestinal infection that damages the intestines. It can create cracks or gaps that can allow bad bacteria to leak into the abdomen, worsening the infection and sometimes leading to death.
Several studies have suggested that cow's milk formula, when fed to premature infants, can increase the risk of NEC. In a 2019 Cochrane review, for example, researchers found that feeding premature infants with formula increased rates of growth during the hospital stay, but was "associated with a higher risk of developing the severe gut disorder called 'necrotizing enterocolitis.'"
Parents of children who were fed Similac or Enfamil while in the Neonatal Intensive Care Unit (NICU) and then developed NEC blame the manufacturers for failing to alert doctors and parents to this potential connection. They seek damages to cover medical expenses and sometimes, for wrongful death.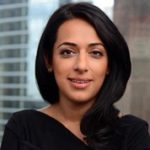 Exclusively focused on representing plaintiffs—especially in mass tort litigation—Roopal Luhana prides herself on providing unsurpassed professional legal services in pursuit of the specific goals of her clients and their families. While she handles complex cases nationwide on behalf of consumers, Ms. Luhana resides with her family in Brooklyn, New York.