Amid rising concerns over the safety of talc-based powders, Johnson & Johnson (J&J) announced on May 19, 2020, that it will no longer sell its Johnson's Baby Powder in North America.
Like many companies affected by the COVID-19 pandemic, J&J refocused its manufacturing and shipping priorities in March of this year.  It stopped shipping talc-based powder products to prioritize high-demand items needed for the pandemic, as well as to make room for social distancing at its manufacturing and distribution facilities.
Now, the company is making that change permanent. As part of a recent portfolio assessment, J&J stated it has "decided to permanently discontinue approximately 100 SKUs from the March assessment, as well as talc-based Johnson's Baby Powder." This decision applies only to products sold in the U.S. and Canada. Those same products will remain available in other countries, including the U.K.
Over the coming months, J&J will wind down the commercialization of talc-based Johnson's Baby Powder, allowing existing inventory to be sold until it runs out. Cornstarch-based Johnson's Baby Powder will remain available in North America.
J&J is currently defending over 19,000 lawsuits concerning its Baby Powder and Shower to Shower products, with plaintiffs claiming the company knew that its raw talc and finished products could contain small amounts of cancer-causing asbestos.
J&J Maintains Its Baby Powder Is Safe While Ceasing Sales in North America
Demand for J&J's talc-based products has declined over the past couple of years. The company says that's because of misinformation about the safety of the products—information they say is false. "Decades of scientific studies by medical experts around the world support the safety of our product," the company states in its announcement.
J&J currently faces two types of lawsuits concerning its talc-based products:
Those filed by women claiming to have developed ovarian cancer after using the products for feminine hygiene purposes.
Those filed by people claiming to have developed mesothelioma after using the products and inhaling the powder residue.
In October 2016, cases involving ovarian cancer filed in federal court were consolidated and sent to the U.S. District Court for the District of New Jersey. Some studies have suggested that women who use talc-based products in the genital area may have an increased risk of ovarian cancer, but others have not found that connection.
Further studies found a connection between talc-based powders and cancer-related to asbestos, a known carcinogen, found in some talc-based powders. Talc and asbestos are often found together in the earth, and manufacturers must be cautious about detecting and eradicating any asbestos that may be present.
A Reuters investigation of J&J's internal documents—released as part of a mesothelioma lawsuit—showed that from at least 1971 to the early 2000s, the company's raw talc and finished powders sometimes tested positive for small amounts of asbestos. They also showed that company executives were concerned about the issue, and communicated with one another about how to manage it. None of this information was ever shared with U.S. regulators or the public.
The content of these company documents prompted the U.S. Department of Justice to open a criminal investigation into J&J's marketing of its talc-based products, to determine whether the company lied to the public about possible cancer risks.
FDA Finds Asbestos in Johnson's Baby Powder
On Oct. 18, 2019, the U.S. Food and Drug Administration (FDA) alerted consumers to a voluntary recall by J&J of about 33,000 bottles of Johnson's Baby powder after FDA testing found a sample from one lot contained a type of asbestos.  J&J followed with its own tests and later reported that it found no asbestos, but the FDA stood by its findings.
Reuters also reported that the private Maryland lab that found asbestos in the Baby Powder was under contract with the FDA—but was run by a paid expert witness for J&J.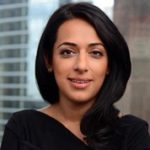 Exclusively focused on representing plaintiffs—especially in mass tort litigation—Roopal Luhana prides herself on providing unsurpassed professional legal services in pursuit of the specific goals of her clients and their families. While she handles complex cases nationwide on behalf of consumers, Ms. Luhana resides with her family in Brooklyn, New York.