Johnson & Johnson (J&J) recently reached a settlement agreement to resolve about 1,000 talcum-powder lawsuits. According to Bloomberg News, the move signals that the company "is trying to get ahead of the burgeoning litigation, with some 20,000 lawsuits still pending…" This news comes about the same time as the publication of a new study providing further evidence that talc in baby powder products may increase the risk of ovarian cancer.
J&J is also facing thousands of lawsuits concerning its manufacturing of prescription opioid drugs. It has proposed a settlement pool of $5 billion to resolve the nearly 3,000 cases filed by states, counties, and municipalities seeking to hold the company liable for its part in the current opioid epidemic.
Plaintiffs Argue that Johnson & Johnson Failed to Warn About Talcum Powder Risks
J&J has long maintained that its talcum powder products are safe, but plaintiffs argue the company was aware its raw talc sometimes tested positive for asbestos, a cancer-causing agent, and that its powder products could cause ovarian cancer.
In 2018, a jury in a Missouri circuit court ordered J&J to pay $4.69 billion to 22 women and their families who claimed the asbestos in the company's talcum powder products caused them to develop ovarian cancer. Six of the women had died by the time that verdict arrived. The award was later cut to $2.1 billion on appeal.
J&J has lost other similar cases, as well, and has successfully appealed a number of them. The company argues that their products do not cause cancer, despite studies indicating that talc can migrate to the ovaries. In the early 1980s, for instance, scientists found that following perineal application, talc particles could migrate from the vagina to the peritoneal cavity and the ovaries. Other studies, however, have found no increased risk of ovarian cancer in women using talcum-based products.
Study Finds More Evidence that Talc May Increase Risk of Ovarian Cancer
In a new study, researchers measured the size and shape of talc particles in samples of talc-containing baby powder (TCBP) and in surgically resected pelvic tissues taken from women who'd had ovarian cancer and had undergone hysterectomies.
Results showed that the talc particles were similar in size and shape to the most abundant class of talc particles. The finding, the researchers wrote, "provides further evidence that the small, isodiametric particles that dominate TCBP can migrate from the perineum and become lodged in distal structures in the female reproductive tract, where they may lead to an increased risk of developing ovarian carcinoma."
J&J Pushes to Resolve More Litigation
In October 2019, the U.S. Food and Drug Administration (FDA) testing detected a type of asbestos in a baby powder sample. J&J recalled that lot, later insisting it found no asbestos in its testing of the same products. In May 2020, citing a decrease in demand fueled by "misinformation," J&J announced it would stop selling its talcum-based baby powder in the U.S. and Canada.
J&J's recent settlements concerning both talc-based products and opioids suggest the company is trying to put all this litigation behind it. The recent agreement to pay more than $100 million to resolve over 1,000 talc-based lawsuits saves J&J from facing more juries who may examine the evidence and determine that its talc-based products are unreasonably dangerous.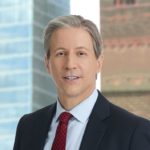 Exclusively focused on representing plaintiffs, especially in mass tort litigation, Eric Chaffin prides himself on providing unsurpassed professional legal services in pursuit of the specific goals of his clients and their families. Both his work and his cases have been featured in the national press, including on ABC's Good Morning America.