A Florida woman recently filed a new Elmiron lawsuit in the U.S. District Court for the Southern District of Florida. She claims that after using the interstitial cystitis (IC) medication, she suffered from serious injuries.
Plaintiff Claims Elmiron Caused Her Maculopathy
According to her complaint, the plaintiff's doctor prescribed Elmiron (pentosan polysulfate sodium or PPS) in 2010. She took the medication to treat her symptoms of IC, which is a painful condition affecting the bladder. It causes symptoms like recurring pain and pressure, urinary frequency and urgency, and sometimes, pelvic pain. There is no cure, and Elmiron is the only medication approved by the U.S. Food and Drug Administration (FDA) for the treatment of IC.
The plaintiff continued to take Elmiron through 2020. During that time, neither she nor her doctors were given any warning about a risk of vision loss. Yet now, allegedly as a result of her exposure to Elmiron, the plaintiff suffers from maculopathy and blurry and distorted vision.
Maculopathy is any type of condition that negatively affects the macula, which is the area at the center of the retina at the back of the eye. It helps control central vision and is heavily involved in the ability to read, see fine detail, and recognize faces and colors.
FDA Approves Elmiron to Treat IC, but Only for Patients Who Need It
The FDA approved Elmiron in September 1996 for the treatment of IC. It is not a first-line treatment, however, meaning that it is not recommended that doctors start treatment with this drug. Rather, it is to be reserved for patients who do not have adequate results with other treatment options.
Though Elmiron is the only medication approved specifically for the treatment of IC, it is not the only medication that can be used to treat the condition. Doctors use other medications off-label to help ease the symptoms of the condition.
Exactly how Elmiron works to treat IC is unknown. It is thought to coat the cells in the bladder lining to provide pain relief. Users must take the drug long-term (3-6 months) to see results, and if it is effective, they must continue to take it to enjoy symptom relief.
Studies Indicate Long-Term Use of Elmiron Linked to Higher Risk of Vision Problems
The plaintiff states that the defendants were aware of the risks associated with PPS, but failed to alert healthcare providers or patients. One of the studies the defendants used to gain FDA approval, for example, indicated that PPS could cause adverse events affecting vision, including retinal hemorrhage.
In a 1991 study—released before Elmiron came onto the market—researchers found that PPS could inhibit the regrowth and proliferation of retinal pigment cells, thereby damaging retinal health.
Between 1997 and 2020, the FDA received 164 reports of eye disorders related to Elmiron, ranging from blurred vision to maculopathy and blindness. Then in 2018, researchers from the Emory Eye Center published their concerns about a unique eye disease they were seeing in Elmiron patients. Patients primarily described difficulty reading and/or adjusting to dim lighting. Each had been taking Elmiron for about 15 years.
More studies would follow, all of them indicating Elmiron increased the risk for vision changes affecting the retina. Scientists recommended that patients taking the drug undergo yearly exams to check on retinal health.
It wasn't until June 2020 that Elmiron manufacturer Janssen Pharmaceuticals finally added a warning to the product label alerting doctors and physicians to the risk of vision problems.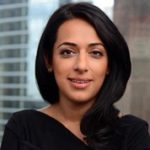 Exclusively focused on representing plaintiffs—especially in mass tort litigation—Roopal Luhana prides herself on providing unsurpassed professional legal services in pursuit of the specific goals of her clients and their families. While she handles complex cases nationwide on behalf of consumers, Ms. Luhana resides with her family in Brooklyn, New York.