On March 9, 2020, the U.S. Food and Drug Administration (FDA) issued a new update on the results of its testing of talc-containing cosmetic products for the possible presence of asbestos.
The results showed that 43 of the samples were negative, but 9 were positive for the presence of cancer-causing asbestos.  The nine products that tested positive were recalled at various times throughout the past year after individual results were obtained.
These results raise additional concerns about asbestos in talc-containing products, suggesting the problem may be more widespread than previously believed.  So far, Johnson & Johnson (J&J)—the manufacturer of talc-containing Baby powder and Shower to Shower products—has faced the highest number of cosmetic-based lawsuits concerning asbestos and cancer.
FDA Finds Asbestos in Nine Talc-Containing Cosmetics
The tests were performed by AMA Analytical Services, Inc., an independent testing firm with expertise and knowledge in asbestos testing.  AMA was tasked with testing blind samples of talc-containing powder cosmetic products selected and purchased by the FDA.
The FDA emphasized that the products were selected based on the following criteria:
Type of talc-containing powder cosmetic product
Price range
Popular products on social media and in advertisements
Children's products
Certain products reported by third parties to be contaminated with asbestos
Because of these criteria, the FDA emphasized that the occurrence of positive samples "should not be interpreted as reflecting the overall frequency of positive samples in the marketplace."
The contaminated products were:
Claire's Compact Powder style #83915-9
Claire's Contour Palette style #40194-3
JoJo Siwa Makeup Set
Contour Effects Palette 2, City Color
Timeless Beauty Palette, City Color
Shimmer Bronzer (Caramel), City Color
Bronzer (Sunset), City Color
Johnson's Baby Powder, Johnson & Johnson
Susan Mayne, Ph.D., director of the Center for Food Safety and Applied Nutrition, stated: "There is general agreement among U.S. federal agencies and the World Health Organization that there is no known safe level of asbestos exposure."
The FDA stated it plans to continue its talc sampling throughout 2020, with 50 samples selected for blinded testing by AMA.  The final results will be released when available in early 2021.  In the case of positive samples, the FDA will inform the public as the results are received.
J&J Faces Thousands of Talcum Powder Lawsuits
In October, 2019, the FDA announced its findings concerning asbestos in samples of J&J's Baby Powder.  J&J responded by recalling one lot of its Baby Powder—the lot from which the contaminated sample came—and proceeded to conduct its own tests.  The company stated it did not find any asbestos in samples from the same lot tested, but the FDA stood by its results.
J&J is currently defending thousands of talcum powder lawsuits filed by plaintiffs who allege that the products contributed to the development of ovarian cancer or caused mesothelioma (asbestos-related lung cancer).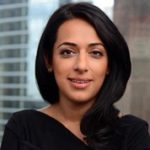 Exclusively focused on representing plaintiffs—especially in mass tort litigation—Roopal Luhana prides herself on providing unsurpassed professional legal services in pursuit of the specific goals of her clients and their families. While she handles complex cases nationwide on behalf of consumers, Ms. Luhana resides with her family in Brooklyn, New York.