Two recently filed Elmiron lawsuits reflect a growing concern about potential vision problems that may be associated with taking the drug for long periods.
Elmiron (pentosan polysulfate sodium or PPS), which is FDA-approved to treat a painful bladder condition called interstitial cystitis (IC), has recently been the subject of studies examining its effect on the retina of the eye. Those studies have indicated that the drug can cause a unique type of maculopathy affecting central vision.
Woman Diagnosed with Maculopathy After Taking Elmiron for About 20 Years
The first plaintiff, a resident of North Carolina, filed her case in the Middle District of North Carolina in August 2020. She states in his complaint that she was diagnosed with interstitial cystitis (IC) around 1998 or 1999 and that her doctor prescribed Elmiron shortly thereafter. She went on to take the drug as prescribed from about 1998 through January 2020.
In April 2019, she began experiencing vision issues, including problems with night vision and adapting to darkness and loss of central vision. She was subsequently diagnosed with pentosan polysulfate maculopathy.
Maculopathy describes any condition affecting the macula, which sits at the center of the retina and is responsible for central vision and overall accurate vision. Recent research has connected long-term use of Elmiron to an increased risk for pigmentary maculopathy, which is characterized by the presence of pigmented spots (excess capillaries) over the macula that damage vision.
The plaintiff was not aware of any potential connection between Elmiron and her vision problems, since the manufacturers failed to warn doctors and patients about the risk. It was only after Janssen Pharmaceuticals revised the drug label in June 2020 to include a warning about ophthalmological side effects that she realized the potential link between her ingestion of Elmiron and her vision problems.
Users Must Take High Doses of Elmiron for Long Periods of Time
The second plaintiff is from California and filed her case in the District of New Jersey. Like the first plaintiff, she claims that she was diagnosed with IC and was prescribed Elmiron, which she took for about four years from 2013 through 2017. During that time, she received no warnings about any risk of retinal damage or vision loss.
Now, she suffers from toxic maculopathy, retinal damage, blurred vision, distorted vision, and other visual symptoms. She blames these issues on her ingestion of Elmiron and seeks damages from the drugmaker.
She brings to attention the fact that the defendants admit to not knowing exactly how Elmiron works to treat the painful symptoms of IC, but that they believe it acts like a "chemical bandaid," coating the cells in the bladder to ease pain. The drug is poorly absorbed in the body, which means patients have to take long-term high doses, which can result in accumulation and toxicity over time. Typical users take 100 mg doses three times per day and must do so for at least 3-6 months and often longer to achieve any benefit.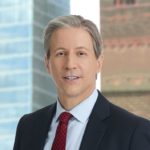 Exclusively focused on representing plaintiffs, especially in mass tort litigation, Eric Chaffin prides himself on providing unsurpassed professional legal services in pursuit of the specific goals of his clients and their families. Both his work and his cases have been featured in the national press, including on ABC's Good Morning America.