On December 15, 2020, the U.S. Judicial Panel on Multidistrict Litigation (JPML) ordered all federally filed Elmiron lawsuits consolidated into the U.S. District Court of the District of New Jersey. Under the direction of District Judge Brian R. Martinotti, the parties are working to prepare a limited number of cases for an early trial.
According to the most recent case management order in the litigation, the court is planning on holding a science day. This is a specific day set aside to educate judicial officers on the medical and scientific facts behind how Elmiron works—on September 30, 2021.
Over 500 Elmiron Lawsuits Pending in Courts Across the Country
Elmiron (pentosan polysulfate sodium or PPS) was approved by the Food and Drug Administration (FDA) in 1996. It is the only prescription drug designed specifically to treat the symptoms of interstitial cystitis (IC), a painful bladder condition. Relief from symptoms can take as long as 3-6 months to occur, and then patients must keep taking the drug for continued benefit.
That means that many patients who use Elmiron take it for years or even decades. Starting in 2018, researchers and eye doctors began to see evidence that such long-term use could cause eye and vision damage.
As of September 21, 2021, 500 Elmiron lawsuits were pending in the multidistrict litigation (MDL), with 58 more in various state courts.
Studies Have Linked Long-Term Use of Elmiron with Vision Damage
As part of science day, court representatives will likely hear about the details of Elmiron, including the fact that scientists aren't sure exactly how it works. They think that it restores damaged tissue in the bladder, providing a protective coating over the bladder wall to help shield it from irritating substances in the urine. It may also help ease inflammation.
Starting in 2018, doctors began noticing a strange and unique type of eye damage occurring in patients who used Elmiron for long periods. Dr. Neiraj Jain and colleagues wrote a letter to the editor of the Journal of Urology that year stating they had observed unhealthy vision changes in six patients who had been using Elmiron for several years.
They later published their findings in the journal Opthalmology, showing that all patients suffering from this new type of eye damage reported difficulty with reading and adapting to areas of dim light and had subtle hyperpigmentations (spots) on their retinas.
This opened the door to more research. Other scientists soon reported similar results: those using Elmiron for long periods had a higher risk of suffering what was named "pigmentary maculopathy," a type of damage on the macula involving the development of excess capillaries or pigmented spots that interfered with normal vision.
Studies Have Linked Long-Term Use of Elmiron with Vision Damage
The Elmiron MDL is working on a case-specific discovery process that will help prepare early test trials. These are scheduled to begin around January 2023. The science day presentations will help guide Judge Martinotti in any rulings concerning the type of evidence that may be presented to juries.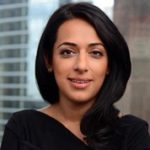 Exclusively focused on representing plaintiffs—especially in mass tort litigation—Roopal Luhana prides herself on providing unsurpassed professional legal services in pursuit of the specific goals of her clients and their families. While she handles complex cases nationwide on behalf of consumers, Ms. Luhana resides with her family in Brooklyn, New York.