The number of lawsuits filed against Elmiron manufacturer Janssen Pharmaceuticals continues to increase. According to a recent case management order filed on July 16, 2021, a total of 310 federal cases and 51 state cases are pending so far, with more expected in the coming months.
Plaintiffs claim that after using Elmiron—approved treatment for interstitial cystitis—they developed permanent vision damage.
Elmiron Court Moving Forward on Discovery and Science Day
The U.S. Judicial Panel on Multidistrict Litigation (JPML) ordered all federally filed Elmiron lawsuits consolidated in the District of New Jersey on December 15, 2020. District Judge Brian R. Martinotti was appointed to oversee the proceedings.
The MDL court held its most recent case management conference on July 7, 2021. The order posted after that conference details some of what's going on in the litigation:
The parties are conferring on a "science day," scheduled to take place on September 30, 2021. This is a day where parties educate the court on the science behind Elmiron—how it works, the studies connecting it to vision damage, and more.
The parties are conferring on cases to be submitted for early bellwether trials.
The parties will continue to meet on discovery and state-federal coordination issues.
In a separate case management order, the court provided more details on the upcoming science day, noting that the purpose of such a day "is to provide the Court with an overview of certain medical and scientific issues associated with the medicine Elmiron and the injuries being alleged by the plaintiffs."
The parties have agreed that topics to be discussed on that day may include:
Interstitial cystitis, including diagnosis and treatment options like Elmiron.
The approved indication for Elmiron.
Other diseases and conditions for which Elmiron may be prescribed.
Elmiron efficacy and dosage.
Pharmacology of Elmiron and its mechanism of action in treating interstitial cystitis.
Injuries were alleged in this litigation.
Medical literature and regulatory history of Elmiron.
Presentations on these topics may be made by the parties' attorneys, experts, or a combination of both. Each side—the plaintiffs and the defendants—will be given two hours to make their presentations, with any questions to come from the court only.
The first Elmiron trial is expected to begin in January 2023. The court scheduled the next case management conference for Wednesday, August 11, 2021.
Janssen Fails to Warn About Elmiron-Induced Vision Loss
The U.S. Food and Drug Administration (FDA) approved Elmiron (pentosan polysulfate or PPS) in 1996 for the treatment of interstitial cystitis, a painful bladder condition. It is the only drug specifically approved to treat this condition, though doctors may use other medications "off label" to manage symptoms.
Recent research has suggested that long-term use of Elmiron may be linked to a unique type of eye damage called pigmentary maculopathy. It causes small spots to form on the retina that can then interfere with vision, making it difficult to read and to see in dim light.
Despite multiple reports of Elmiron-related vision loss, Janssen did not update the product warnings on the label until June 2020.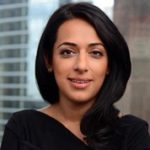 Exclusively focused on representing plaintiffs—especially in mass tort litigation—Roopal Luhana prides herself on providing unsurpassed professional legal services in pursuit of the specific goals of her clients and their families. While she handles complex cases nationwide on behalf of consumers, Ms. Luhana resides with her family in Brooklyn, New York.