The ECRI Institute (Emergency Care Research Institute), an independent nonprofit organization focused on safe medical care, recently released its annual safety report identifying its top 10 health technology hazards for 2020. The first of the ten?  Surgical stapler misuse.
"Injuries and deaths from the misuse of surgical staplers are substantial and preventable," said Marcus Schabacker, M.D., Ph.D., president and CEO of the ECRI Institute.  "We want hospitals and other medical institutions to be in a better position to take necessary action to protect patients from harm."
Earlier this year, the FDA warned healthcare providers of problems found with surgical staplers.  Their analysis of adverse event reports between January 1, 2011, and March 31, 2018, showed over 41,000 individual reports for surgical staplers and staples for internal use, including 366 deaths, over 9,000 serious injuries, and over 32,000 malfunctions.
EIRC Warns Healthcare Providers of Risks Associated with Surgical Staplers
Every year, the EIRC Institute identifies what it believes are the top technology concerns that healthcare leaders should be paying attention to.  Over the past two decades, it has investigated 75 stapler accidents, including several fatalities, and published 42 safety alerts.
The EIRC has provided steps for organizations to take to prevent such incidents, noting that its recommendations
"will help stapler users avoid many of the common errors that can lead to patient harm."
Currently, surgical staplers for internal use are regulated as Class 1 devices, which don't require a premarket submission to the FDA, and are described as not presenting a "potential unreasonable risk of illness or injury."  The FDA has now proposed reclassifying surgical staplers from Class 1 to Class II medical devices.
Class II medical devices are more complicated and present a higher category of risk.  These are defined as devices "for which general controls are insufficient to provide reasonable assurance of the safety and effectiveness of the device."  Establishing surgical staplers as Class II devices would allow the FDA to establish mandatory special controls and require premarket notification.
Ethicon Recalls Over 92,000 Surgical Staplers
On April 11, 2019, Ethicon—a subsidiary of Johnson & Johnson (J&J)—initiated a recall of over 92,000 surgical staplers distributed between March 15, 2018, and March 8, 2019.  These devices are used to create connections during surgical procedures on the gastrointestinal tract.
The FDA identified this recall as a Class I recall, the most serious type of recall, reserved for products that may cause serious injuries or death.  Ethicon stated that after investigating complaints and returned products, it confirmed that its intraluminal circular staplers could have uncut washers, and could create malformed staples because of insufficient firing, which could compromise staple line integrity.
Ethicon's investigation of the issue revealed a shift in manufacturing processes that seemed to be the cause of the defect.  The company confirmed two serious patient injuries in which surgical stapler misfiring resulted in both of the patients having to undergo a second surgery.
Use of a defective surgical stapler can result in serious injury, including death, sepsis, bleeding, the need for a permanent ostomy bag, nutritional and digestive issues, leaks, and the need for additional surgeries and other procedures.
Ethicon recalled another over 5,700 Endopath staplers in October 2019, because some of the devices could contain an out-of-specification component in the jaw of the device, which could lead to malformed staples.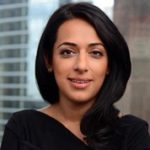 Exclusively focused on representing plaintiffs—especially in mass tort litigation—Roopal Luhana prides herself on providing unsurpassed professional legal services in pursuit of the specific goals of her clients and their families. While she handles complex cases nationwide on behalf of consumers, Ms. Luhana resides with her family in Brooklyn, New York.