The guiding principle of Chaffin Luhana LLP and the Chaffin Luhana Foundation is Doing Good by Doing Right. I want to share with you a recent experience we had that allowed us to implement the power of what Gary Vee teaches for Good. Using a simple photo that Gary was kind enough to take, we were able to help people with paralysis. Let me explain how.
I was at the Crisp Game Changer Summit in Atlanta, Georgia at the end of September. Gary Vee was the Keynote Speaker. As a member of CrispX, I was fortunate enough to have lunch with Gary and some close friends after his talk. I was taken in by his talk, but more so by how engaging and connective he was in-person.
Gary's talk was focused on using social media to brand and market themselves and their law firms. He encouraged us attorneys to think outside the box in developing our brand, and suggested that when we develop good content, we promote it on organic and paid channels like Facebook and LinkedIn. He said 98% of the room would not implement what he preached. My team and I aim to be in the 2% that take action, and of course, do some social good in the process.
The #CLFInnerReeveChallenge
Leading up to the Summit on September 25, the Chaffin Luhana Foundation (the Foundation arm of my law firm) started a social media campaign in partnership with the Christopher & Dana Reeve Foundation to raise money and awareness for those with Spinal Cord Injuries (SCI) and paralysis. The #CLFInnerReeveChallenge was our brainchild, and we launched it the day before the Summit on Christopher Reeve's birthday. It is a meaningful campaign to remind people of the good that was Christopher Reeve and to help people like him who are living with paralysis.
The #CLFInnerReeveChallenge seeks to challenge people to post on social media who their everyday heroes like Christopher Reeve are, make a donation to the Reeve Foundation and in return have a chance to win some fabulous prizes including a Peloton Tread and a limited-edition t-shirt (pictured here).
The t-shirt slogan was aligned with our campaign message. Find your Inner Christopher Reeve (written in under Superman crossed out), signifies that the human spirit of everyday heroes (like Christopher Reeve) is what makes the world a better place.
Christopher Reeve played the original Superman on the silver-screen, but his most courageous work, and what made him a true hero, was his support for those with paralysis when he himself was quadriplegic.
Lunch With Gary
During lunch with Gary, we all had the opportunity to talk with him and grab photos. I asked him, "Do you remember Christopher Reeve?" and Gary lit up with a smile, and replied "Of course". When I held up the t-shirt and asked him for a photo to help promote the #CLFInnerReeveChallenge, Gary simply replied "get over here" and then made sure my personal cell phone was used to capture the photo (I only assume so I could post it for good). I then posted the photo on my personal FB page, and then the CL Foundation page re-posted it.
Things Get Interesting
Taking Gary's advice, we boosted the CL Foundation FB post with the photo of Gary Vee with his new t-shirt. The boost, however, did not happen instantly because it required Facebook approval (likely because it tagged Gary and the Reeve Foundation). The first 12-18 hours while we were waiting approval, we got only a handful of likes and no comments.
Once Facebook approved the boost, however, something very different happened. Overnight, the post grew to hundreds of likes, loves, and reactions. Comments also started stacking up. Most were positive. Some, of course, were negative. Gary Vee preached at the Summit that there was no such thing as a bad comment, so after my Marketing Director started to hide the negative comments, I asked him to stop and leave them there (more on that below).
In addition to boosting the post to the Gary Vee crowd, we also boosted the post to others, including those who were in the vicinity of the conference (which was our way to target the 1k+ conference attendees who were seeing our t-shirts and some social media feeds about the #CLFInnerReeveChallenge on an 80-foot jumbo screen in the Summit venue). Lastly, we boosted the post to those who follow the Reeve Foundation.
To date, the boosted post has reached over 100k people and generated over 2.1k reactions! The post has been shared 32 times, and there have been 37 comments so far. Yes, some of them are negative comments, but what was really beautiful is that many of the negative comments were met with responses by the positive voices. People speaking up for what they believe in, which is pretty darn cool. As Gary Vee advised, all comments are helpful, even if they're negative. People can judge for themselves what is a valuable comment to the conversation.
As of this article, the CL Foundation's cost for boosting the Gary Vee post is just over $1,000, and the #CLFInnerReeveChallenge team has already raised over half of its stated goal of $25,000 so far. It would be beyond awesome to surpass that goal by our deadline of November 3 (the date of the NYC Marathon – which I am personally running in for Team Reeve), and with the help of Gary Vee, we may just get there.
Thank you, Gary Vee for doing some Good with us for those with paralysis. I can't help but think that Christopher & Dana Reeve are up there smiling down, just like you smiled when you said, "yes let's take that picture."
Meanwhile, Gary Vee said Tik Tok is one of the new, growing social platforms right now with boundless opportunity, and I leave you with this text message from my teenage daughter this morning:
Gary clearly practices what he preaches, and that makes him genuine, convincing and compelling. And his kindness about the #CLFInnerReeveChallenge reflects that he genuinely cares.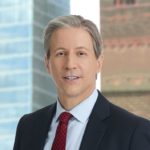 Exclusively focused on representing plaintiffs, especially in mass tort litigation, Eric Chaffin prides himself on providing unsurpassed professional legal services in pursuit of the specific goals of his clients and their families. Both his work and his cases have been featured in the national press, including on ABC's Good Morning America.