A group of plaintiffs have filed a new class-action lawsuit against electric-scooter company Bird Rides, Inc., a Delaware corporation; Neutron Holdings, also a Delaware corporation doing business as "Lime" company; and a number of cities in California where the companies operate their scooter rental services.
The plaintiffs claim that the electric scooters are dangerous for disabled persons, as they often block pedestrian and handicap right of ways.
Scooters Interfering with Pedestrian Rights of Way
According to the complaint, the scooter companies have been exploiting city curb ramps, sidewalks, crosswalks, pedestrian crossings, and other walkways for their own corporate profit,
"to the harm of some of the most vulnerable residents of the Cities, the disabled."
Both of these companies rent electric scooters to their customers as options for quick and easy transportation throughout the city. Customers use mobile applications to secure the rentals, and then pick the scooters up in one location and leave them off at another.
The plaintiffs say this causes problems for the disabled because the scooters are regularly abandoned in various locations around the city, often creating barriers in paths of travel for those using wheelchairs or other mobility assistance tools. "These electric scooters are abandoned all across the cities," the plaintiffs state in their complaint,
"on public property, and typically in designated Pedestrian Rights of Way."
The scooters may be left parked upright, but they are also often abandoned down on their sides, blocking paths of travel. Frequently there are several of them left together in groups, creating even larger barriers.
The scooters can also be dangerous, the plaintiffs state, because they can travel much faster than the speed of foot traffic, often exceeding 15 miles per hour on or through pedestrian areas. Because the scooter operators are not required to have any training, they can create hazardous conditions on travel ways. Some of the plaintiffs claim scooter operators have caused them difficulty in traveling, as well as humiliation and frustration.
Because of these issues, plaintiffs state that they are discouraged from using pedestrian rights of way.
Cities Responsible for Keeping Pedestrian Rights of Way Clear
Bird and Lime have both escaped the costly option of having retail locations for their rental services, or even of negotiating leases with the cities for docking stations, by simply annexing public property for their corporate profits. "Pedestrian Rights of Way," the plaintiffs write, "which are public property for the use and enjoyment of all the public, have been converted by the electric scooter defendants into their own private showroom, parking lot, service garage, testing ground and electric scooter highway."
This approach has resulted in high profits for the companies, but has allegedly come at the cost of discomfort, injury, and discrimination for the plaintiffs and for all disabled persons with mobility and/or visual impairments and other disabilities. The business model itself is unlawful, the plaintiffs state, and meanwhile the city defendants, who are responsible for maintaining pedestrian rights of way, have not properly addressed the issue.
The plaintiffs seek class-action status on behalf of all persons with mobility or other disabilities who have been denied access to pedestrian rights of way in their cities because of scooter-rental services.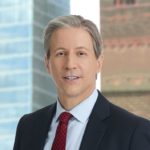 Exclusively focused on representing plaintiffs, especially in mass tort litigation, Eric Chaffin prides himself on providing unsurpassed professional legal services in pursuit of the specific goals of his clients and their families. Both his work and his cases have been featured in the national press, including on ABC's Good Morning America.