In the midst of the debate about the safety of power morcellators in uterine fibroid surgery, some doctors and hospitals are choosing to take a stand even before the FDA takes any further action. According to Pittsburgh Business Times, the University of Pittsburgh Medical Center (UPMC), the number-one ranked hospital in the state, suspended the use of morcellators because of the cancer risks.
The FDA issued a warning in April 2014, discouraging healthcare providers from using power morcellators during minimally invasive hysterectomy and myomectomy procedures. They later estimated that one in 350 women will have an undetected uterine sarcoma that could be cut up and spread by the devices, leading to a serious and potentially life-threatening cancer diagnosis after the surgery.
The FDA convened an advisory panel in June 2014, listening to arguments from all sides of the issue. So far they have taken no further action, though most of the panel members agreed that a black-box warning placed on the product, at the very least, would be prudent.

Other Hospitals Also Suspending Morcellators
Hospital spokeswoman Gloria Kreps stated that their decision to suspend the use of morcellators was appropriate, and that they would continue to look to the FDA for further guidance. UPMC isn't the only hospital to take this step. In the face of an increasing number of lawsuits filed around the country by victims of this procedure, other medical facilities have also decided to suspend the use of morcellators. Among them:
• Tampa General Hospital
• BayCare Health System
• Florida Hospital System
• Bayfront Health St. Petersburg
• Community Health Systems (Florida)
• Rochester General Health System
• Cleveland Clinic
• Boston's Brigham and Women's Hospital
• Massachusetts General Hospital
Morcellator manufacturer Johnson & Johnson (J&J) also recently announced a global recall of their devices. The company stated the products "perform as intended," but that the risks vs. the benefits associated with their use in uterine fibroid surgery remains unclear.

Study Shows Risk of Cancer Higher Than Expected
A power morcellator is an electric surgical tool used to cut up larger tissues for removal through small incisions. They were first approved by the FDA in the early 1990s, and have allowed many women to choose minimally invasive laparoscopic surgery for uterine fibroid removal and hysterectomies.
A scientific study released in 2012, however, noted that the rate of unexpected cancers following the procedure was nine times higher than expected. Screening for uterine cancers is still in its infancy, and most cancerous tissues remain undetected in or around the uterus. Though this type of cancer is rare, ( about one in 350 women have it), the risk of a life-threatening diagnosis is likely to be too high to choose morcellation surgery.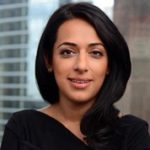 Exclusively focused on representing plaintiffs—especially in mass tort litigation—Roopal Luhana prides herself on providing unsurpassed professional legal services in pursuit of the specific goals of her clients and their families. While she handles complex cases nationwide on behalf of consumers, Ms. Luhana resides with her family in Brooklyn, New York.