In October 2014, the U.S. Judicial Panel on Multidistrict Litigation (JPML) consolidated all federally filed Cook IVC filter lawsuits into one court in the Southern District of Indiana. District Judge Richard L. Young was appointed to oversee the proceedings.
Since then, over 500 plaintiffs have joined the litigation, all claiming to have been injured by Cook Celect and Gunther Tulip IVC filters, which are designed to capture and render harmless blood clots that may harm the heart and lungs.
While both sides have been working to select a small number of cases for early "bellwether" trials, which are scheduled to begin in 2017, the court scheduled a settlement conference for June 17, 2016, in an attempt to reach a resolution.
Unfortunately, the sides could not agree and no resolution was reached.
Attorneys in Cook IVC Filter Litigation Discuss Settlement Options
According to a court order filed June 29, 2016, attorneys for both sides got together and discussed potential settlement agreements with U.S. Magistrate Judge Tim Baker, but were not able to find common ground.
The conference was concluded "without further order," according to the court statement. There may be other attempts to resolve the litigation, but if these fail as well, the early bellwether cases will be tried before juries. These trials may indicate how juries will respond to the evidence, and after they are concluded, the two sides may be better able to come to an agreement.
If not, all pending cases will be remanded back to their original courts of filing for individual trials.
FDA Recommends Caution Where IVC Filters are Concerned
Cook IVC filters are small, cage-like devices implanted in the inferior vena cava—the main vein traveling from the legs back to the lungs and heart. Blood clots can move through this vein and cause a pulmonary embolism (PE), a blood clot in the lungs that can be life-threatening.
Cook IVC filters are designed to capture and hold any clots before they can make it to the lungs, but in some cases, these devices can break, fracture and migrate to other organs and parts of the body, where they can cause blood clots of their own, and lead to other health problems.
Between 2005 and 2010, the FDA received nearly 1,000 adverse event reports related to IVC filters, with over 300 cases of device migration to the heart or pulmonary artery, causing fluid buildup, arrhythmia or death. In about 150 cases, part of the filter detached and caused a blockage in the artery, while in 70 the filter moved and perforated artery walls or organs.
In May 2014, the FDA released a safety communication advising doctors to remove IVC filters between 29 and 54 days after implantation, as long as the danger of pulmonary embolism had passed. "The FDA has received reports of adverse events and product problems associated with IVC filters," they stated. "Types of reports include device migration, filter fracture, embolization (movement of the entire filter or fracture fragments to the heart or lungs), perforation of the IVC and difficulty removing the device."
Studies Indicate Problems with IVC Filters
In 2015, researchers published a study reporting on a comparison between Cook IVC Celect filters and Rex Option filters. They found that out of about 185 patients, the Celect filter had a significantly higher rate of strut perforation, while the retrieval rates between the two were about the same.
C. R. Bard also makes IVC filters, and many of their products have also been associated with perforation, migration and other problems. All federally filed cases were consolidated in the District of Arizona in August 2015.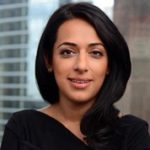 Exclusively focused on representing plaintiffs—especially in mass tort litigation—Roopal Luhana prides herself on providing unsurpassed professional legal services in pursuit of the specific goals of her clients and their families. While she handles complex cases nationwide on behalf of consumers, Ms. Luhana resides with her family in Brooklyn, New York.