According to a study recently published in the Journal of the American Medical Association, the use of inferior vena cava (IVC) filters among patients with severe pulmonary embolism (PE) provides no additional health benefits over using anticoagulant medications alone—and may cause additional serious side effects.
Dr. Eric K. Hoffer, from Dartmouth-Hitchcock Medical Center in New Hampshire, questioned the findings, but the researchers stand by their conclusions.
Study Finds IVC Filters Create More Risks than Benefits
In the original study, a group of French researchers examined 200 patients who were treated with both blood-thinning drugs and IVC filters, and compared them with about the same number of patients treated with blood-thinning drugs alone.
After a three-month follow up, twice as many patients with IVC filters suffered a recurrent PE as those without the filters. There were no significant differences in other health outcomes. The findings led the researchers to recommend that doctors refrain from using IVC filters in patients who could be treated with anticoagulant drugs.
Dr. Questions Findings
In a reply to the study, Dr. Eric K. Hoffer questioned the findings, noting the short-term duration of the study, and quoting other longer-term studies that showed a benefit in patients treated with the IVC filter at a year after treatment.
Researchers from the original study published a reply to Dr. Hoffer's questions in JAMA on August 18, 2015. They noted that though other studies have shown long-term benefits with IVC filters in reducing recurring PEs, these benefits were offset by an increased risk of deep vein thrombosis. Considering that, the researchers stated again that the filters "were not associated with a decrease in the overall long-term risk of recurrent venous thromboembolism."
FDA Warns of IVC Filter Side Effects
The FDA released a safety communication in 2010 warning physicians and patients that IVC filters could cause serious side effects, including organ perforation and other blood clots. IVC filters are small, cage-like devices implanted into the inferior vena cava (the vein that returns deoxygenated blood from the lower legs to the heart). Once there, it traps blood clots before they can flow into the lungs, helping to reduce the risk of a PE (blood clot in the lungs).
In 2010, however, the FDA revealed that it had received 921 reports of problems with the filters, including device migration, detachment of the components, perforation of the vein or of organs like the heart and lungs, and filter fracture.
In 2014, the administration released an updated communication stating that after thorough analysis of the data, they had determined that IVC filters should be removed 29-54 days after implantation, as long as the patient's risk of PE had passed. Otherwise, the risks presented by the device could outweigh the benefits.
IVC Filter Lawsuits Mounting
Patients who were implanted with an IVC filter and then experienced serious side effects like blood clots and organ perforation may be eligible to file a lawsuit to recover damages. Manufacturers C. R. Bard and Cook Medical, in particular, have been linked to problematic IVC filters, with patients claiming the company failed to provide adequate warnings about the risks.
Because of the growing litigation, the U.S. Judicial Panel on Multidistrict Litigation (JPML) has consolidated all federal Cook IVC filter lawsuits into the Southern District of Indiana, and all Bard IVC filter lawsuits into the District of Arizona. Coordinated proceedings in both courts are expected to facilitate efficient resolution of all cases involved.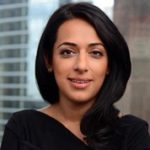 Exclusively focused on representing plaintiffs—especially in mass tort litigation—Roopal Luhana prides herself on providing unsurpassed professional legal services in pursuit of the specific goals of her clients and their families. While she handles complex cases nationwide on behalf of consumers, Ms. Luhana resides with her family in Brooklyn, New York.